FIVE: ACH DU LIEBER LUDEKE
"ALLS" stands for Ada Louise Ludeke Smith: Ada Ick in childhood, Ick at college, Icky to her husband, Mom to her daughters, Louise to her in-laws, Momine or Grandma or Goppy to her grandchildren and great-grandchildren, Smitty as a senior citizen. Her informal memoirs were written 1983-96, including the Sketches of Family Members [SFM] below.

Internet sources are indicated by tildes (e.g. ~internet). A complete list can be found on the Sources page. Due to the transient nature of Internet entries, only a few hyperlinks will be provided to outside webpages; such as ~a (www.ancestry.com), ~f (www.familysearch.org), ~g (www.findagrave.com), and ~w (www.worldvitalrecords.com). The United States Federal Census records for 1850 through 1940 cited below are available at ~a (except for 1890's, which was badly damaged in a 1921 fire and later quietly destroyed).

L-1 The Wuechners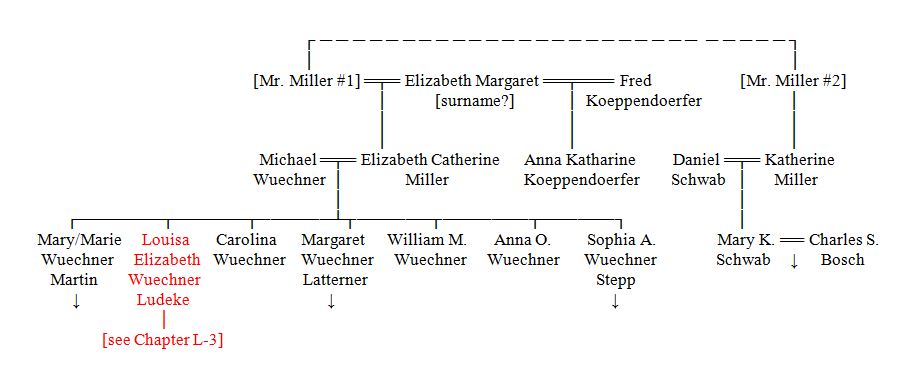 ● A Few More Notes About Southwestern Germany

Alert readers of this chapter and the next two will notice that the homelands of several foreign-born folks have a tendency to "wander." Baden may appear in one census, but Bavaria in the next; or Hesse-Darmstadt gets replaced by variant spellings of Württemburg. These German states were separate and distinct—though sometimes in a state of flux, between Napoleon's dissolving the Holy Roman Empire in 1806 and Bismarck's amalgamating the Deutsches Reich in 1871. All were clustered closely together, especially when you factor in Rhenish Bavaria (Rheinbayern) which was not contiguous with the rest of Bavaria, but located south of Rhenish Hesse (Rheinhessen) on the west side of the Rhine. Click on the thumbnail on the right to see a map of the region: the Hessian provinces of Upper Hesse (Oberhessen) and Starkenburg (whose capital was Darmstadt) were separated by the free city of Frankfurt. Rheinbayern is unlabeled but present (including the cities of Ludwigshafen, Neustadt, and Speyer) south of Rhinehessen. "Classic" Bavaria (Bayern) is east of Starkenburg.
An example of close-clustering: the city of Mannheim was located in Baden, but only a few miles south of the Hesse-Darmstadt border, and just across the river from the two Rhenish provinces†. Even so, the inhabitants of Mannheim (then and now) might take umbrage at being called "Hessian" or "Bavarian"—much as natives of Delaware (such as the Laffertys in Chapter S-1) might have bridled if New Jersey, Pennsylvania, or Maryland were entered as their native state on official forms. There may of course have been miscommunication between immigrants and American census takers; or some of the foreign-born might have given a birthplace one decade and an emigration point the next; or changes could have resulted from faulty memories, especially among an aging Ohio-born generation recalling tales of long-deceased parents. At any rate, the families in this section of Fine Lineage were all emphatically German: most from southwestern Germany (previously visited in Chapter P-5) except for the Ludekes who hailed from Hanover to the north. They all ended up in southwestern Ohio; and there some of them stayed put for several generations, in one particular city.

● A Few Notes About Hamilton, Ohio

Hamilton OH is the seat of Butler County—not Hamilton County, its neighbor to the south, whose seat is Cincinnati. (Click on the thumbnail on the right to see an 1875 map of Butler County; or here to see a Wikipedia map.) Founded in 1791 as a fort on the Miami River, Hamilton became a center of mills and factories drawing hydraulic power from the river and canals. As early as 1846 three cotton mills, three flour mills, and two machine shops had been established along the Miami in Fairfield Township. Future industrial plants—Champion Coated Paper, Beckett Paper, Niles Tool Works, the American Can Company, Estate Stove, and Mosler Safe—earned Hamilton its circa-1900 nickname, "The Greatest Manufacturing City of Its Size in the World."
Like Cincinnati and the rest of southwestern Ohio, large numbers of skilled German workers were drawn to Hamilton's employment opportunities. By 1875, almost one-third of Hamilton's population were immigrants: including the Wuechner, Miller, Koeppendoerfer, Schneider, Ludeke, and Eisel families.
Most fortunately for this and the following chapters, ~a and ~w feature a wealth of images scanned from vintage Hamilton newspapers. As with all such archives, some of the most sought-after issues are missing; yet a remarkable perspective has been provided by the following publications: the Daily News (1893-98, 1919-33), Daily Republican (1894-95), Daily Republican News (1898-1919), Butler County Democrat (1898-1918), Evening Journal (1908-33), Daily News Journal (1933-37), Journal News (1971-77), and Union-Liberty Journal (1972-76), all at ~a; plus the Daily Democrat (1886-1897), Evening Democrat (1897-1903), and Evening Sun (1902-06), provided by ~w.

● Hamilton, Ohio in the 1870s
L

The surname Wüchner or Wuechner (pronounced VEEK-ner) is called "very uncommon and interesting" by ~woakes. Derived from the Middle High German wuche for "week," it implies a weekly exaction of money (by a wuchner) owed to a feudal overlord by his vassals and tenant farmers.

According to ALLS, her great-grandfather Michael Wuechner was a carpenter born circa 1818, whose ancestors came from Darmstadt. In 1865 he built a house at 124 North Front Street ("corner of Front St. and Magnolia St.—an alley—hmm!") in Hamilton. "It is still standing [in 1983]—in good condition—rented apartment upstairs—Real Estate (office downstairs). Red brick (now painted)—eight large rooms—bathroom (added much later, of course)—large attic! This was of course the Wuechner home—housing five children and parents!"
Magnolia Street still exists, between Dayton to the north and Market to the south; but North Front Street has been renamed Riverfront Plaza, with most of the neighborhood cleared away for the Courtyard by Marriott Hamilton hotel (previously the Hamiltonian, built circa 1986). The entire block on which the Wuechner house stood is now a large parking lot. (See below for "A Unique Conversation" between the house and hotel, as imagined by ALLS.)

Click on the thumbnail on the right to see an 1875 map of North Front Street, with notes on the location of homes and businesses. The "BENDING HUB & SPOKE FY." between Water Street and the Miami River would be nostalgically recalled by the Oct. 3, 1931 Daily News: "Fifty-five years ago [i.e. in 1876] August Benninghofen and Michael Wuechner were associated as Benninghofen and Co. in the manufacture of hubs, spokes and all kinds of bent material for carriages and wagons. Their plant was located on the 'Lower Hydraulic.'" Michael's partner, August Benninghofen, was a leading local dealer in "COAL: Best Quality at Lowest Prices" as well as cordwood, lime, cement, plaster, sewer pipe and fire brick. Six years after Michael's death, the Dec. 20, 1889 Daily Democrat would advertise "FOR SALE OR LEASE—The property known as the Benninghofen & Weuchner [sic] Spoke Factory, on Water Street. Water and steam power. Inquire of Jacob S. Niedeman, 106 High Street." (The Daily Democrats for Feb. 9, 1887 and May 2, 1888 had briefly mentioned a lawsuit brought by "Catherine Weuchner [sic], executrix vs. August Benninghofen et. al," presumably concerning the late Michael's share of the hub-and-spoke business; but no outcome of this suit can be found.)
From sources cited below, we may deduce that Michael Wuechner was born c.1818 in Rhenish Bavaria or Wurttemberg; that he married and emigrated to Ohio (not necessarily in that order) no later than 1853; and that he died aged 65 on Oct. 20, 1883 and was buried three days later in plot 1E 379 at Greenwood Cemetery. "Hamilton's original burial ground" (located at 1602 Greenwood Avenue) is "a prime example of the rural cemetery movement of the first half of the 19th Century... Listed in the Department of the Interior's National Register of Historic Places, Greenwood is noted for its fine collection of marble statuary and large number of impressive Victorian monuments... Everything in this type of cemetery is designed to impart an intimation of Heaven"—as per ~hamilton/cvb.
Most of the folks in this and the next two chapters would be buried at Greenwood, or the adjacent St. Stephens Catholic Cemetery. As for roots in Darmstadt, the present author is inclined to believe that ALLS had confused Wuechner ancestry with that of the Schneider family, who did hail from Darmstadt—or at least from the surrounding state of Hesse-Darmstadt.

● Elizabeth/Catherine: Miller, Not Koeppendoerfer
ALLS said that Michael Wuechner married Elizabeth Koeppendoerfer, older sister of Annie Koeppendoerfer; that Elizabeth and Anna's father died soon after Annie's birth in 1851, and their mother followed circa 1865. However, Elizabeth's mother/namesake was still living with her years afterward—recorded in the 1870 census as "Lizzie Keppender" and in 1880's as "Eliz. Koppendorfer."
Possibly to reduce confusion between mother and daughter (or perhaps to guarantee confusion for future genealogists), the younger Elizabeth often went by the name Catherine. The Daily Democrat called her "Elizabeth" on Sep. 23 and Oct. 10, 1891, as did the Evening Democrat on Dec. 1, 1900, and the censuses of 1860 and 1900; while she was "Catherine" or "Catharine" (or "Kate") in the Daily Democrats for Feb. 9, 1887; Jan. 3, 1890; and Sep. 20, 1894, plus the 1870 and 1880 censuses, all available Hamilton city directories, and her obituary in the Evening Sun.
This dichotomy would even extend to the death certificates of her daughters: "mother's name" is Elizabeth on Louise's, and Catherine on Maggie's. They do agree on their mother's maiden surname—and it was Miller, not Koeppendoerfer. The simplest solution is that Elizabeth Katherine Miller was Anna Katherine Koeppendoerfer's much older half-sister: born Aug. 6, 1834 in Baden or Rhenish Bavaria. Their mother also alternated between first and middle names: Elizabeth Margaret (or Margaret Elizabeth) [surname?] (born c.1804-05) must have married a Mr. Miller in Germany in the 1830s, followed by a second marriage (before or after emigration?) to Fred Koeppendoerfer, no later than 1850. By 1870 Elizabeth/Margaret Miller Koeppendoerfer would be widowed (again?); she appears in the 1874 Hamilton city directory as "Koppendorfer Elizabeth, widow" and in 1875's as "Koeppendoerfer Margaret," both times residing at "Michael Wuechner's." She died Apr. 29, 1887 and was buried May 1st at Greenwood—appearing twice in ~greenwood's records for plot 1E 379: once as "Elizabeth," with no other info, and also as "Margaret Koeppendoerfer," with notes that she'd been born in Germany and was aged 82 at death.
To engender further confusion, a Dec. 27, 1853 entry in Butler County OH's marriage archive (viewable at ~f) shows an Eliza Koppendorfer being married by Rev. A. Anker to to Andrew Wagner. It's difficult to believe there was another marriageable Elizabeth Koeppendoerfer in Butler County at this time, particularly since NO one of remotely similar name can be found seven years later in Ohio's 1860 census. Could this have been a third marriage for our elder Elizabeth? If so, why would she revert to "Keppender/Koppendorfer" in 1870-80? Or could this have been a garbled record of Elizabeth/Catherine Miller's marriage to Michael Wuechner? If so, multiple names got mis-entered—and a wedding on this date would've taken place only seven months prior to (or five months after) the birth of the Wuechners's eldest child. Perhaps—again reaching for the simplest solution—Fred Koeppendoerfer had a sister Elizabeth whose wedding, unlike Fred's, remains documented.
A collection of antique pewter now owned by ALLS's daughter Mila Jean Ehrlich (the present author's mother) was handed down by Elizabeth/Catherine's second daughter Louise, grandmother of ALLS: "She told me it was from Germany and had been used in her family. If she meant in the Wuechner family I can't see how she was the lucky one to inherit it all and not being divided among [her] sisters... Since Grandpa [August] Ludeke came from Germany (only four years old when he came to U.S.A.)—maybe his family brought it over—another mystery never solved. Shall we just say it is from Germany and belonged to the Ludeke branch of THE TREE???" For many years, the initials inscribed on the pewter tankard were a mystery: either "F.M." or "J.M." above "1839." There was speculation that these might indicate the pewtersmith and date the tankard was made. However, the revelation that Elizabeth/Catherine was born a Miller now suggests it belonged to her father (or, perhaps, thirsty mother) and was brought to America when the family emigrated circa 1848.


● The Wichners/Weuchlers/Miechners
In the 1860 census, we find the "Wichner" family living in Hamilton's 2nd Ward: Mike (aged "32"), a German-born wagonmaker; Elizabeth (aged 25), likewise from Germany; and two Ohio-born children, seven-year-old May (female) and five-year-old Lewis (male). The latter, however, was actually daughter Louisa Elizabeth Wuechner (born Feb. 14, 1855; of whom see more in Chapter L-3).
The 1870 census of Hamilton's 3rd Ward includes the "Weuchler" family:
* Michael Weuchler (aged 51) born in "Wirtemberg," occupation "proprietor, bending spoke shop," with $9,000 in real estate and $8,000 in personal estate
* Kate Weuchler (aged 34—entered as "84" on the original form) born in Baden, occupation keeping house
* Mary Weuchler (aged 17) Ohio-born, occupation helping mother
* Louisa Weuchler (aged 15) ditto birthplace, occupation attending school
* Maggie Weuchler (aged 10) ditto birthplace, ditto occupation
* William Weuchler (aged 7) ditto birthplace, ditto occupation
* Carrie Weuchler (aged 5) ditto birthplace, occupation "at home"
* Sopha [sic] Weuchler (aged 3) ditto birthplace, ditto occupation
* Lizzie Keppender (aged 65) born in Baden, occupation "living with daughter"
The 1880 census confirms the "Miechner" family was living on Hamilton's Front Street:
* Michal [sic] Miechner (aged 61) born in Bavaria (as were his parents), occupation "hub and spoke manufacturer"
* Catharine Miechner (aged 45) born in Bavaria (as were her parents), occupation keeping house
* Mary Miechner (aged 25) Ohio-born, parents both from Bavaria, occupation (blank)
* Maggie Miechner (aged 19) ditto birthplaces, occupation teacher
* William M. Miechner (aged 17) ditto birthplaces, occupation "works in hat factory"
* Sophia A. Miechner (aged 13) ditto birthplaces, occupation at school
* Eliz. Koppendorfer (aged 76) born in Bavaria (as were her parents), occupation (blank), status "boarder"
In the 1888 Hamilton city directory, 124 North Front Street is occupied by:
* Catherine Wuechner, widow of Michael
* Maggie Wuechner, teacher
* Sophia A. Wuechner
* Anna Koeppendoerfer
And by 1900 the household had dwindled to:
* Elizabeth K. Wuechner [transcribed as "Wucohner"] (aged 64) born Aug. 1835 [sic] in Germany; immigrated 1856 [sic]; widow, had been married 30 years; eight children, four living; owned home—no mortgage
* Anna K. Koeppendoerfer [transcribed as "Kolppendoerfer"] (aged 49) born May 1851 in Ohio to German-born parents; single, sister of household-head, occupation "none"
* Peter B. Holly (aged 46) born Sep. 1853 in Ohio; single, roomer, occupation attorney-at-law
Elizabeth/Catherine Miller Wuechner died Mar. 10, 1904 and was buried at Greenwood four days later. The Mar. 12th Evening Sun reported:
Mrs. Catherine Wuechner, widow of Michael Wuechner, died at her home, 224 [actually 124] North Front Street, Thursday night [Mar. 10th], age 69 years, 7 months and 4 days. The deceased was one of the best known and most highly respected German residents of this city. Mrs. Wuechner had emigrated to this country when about fourteen years of age. She has [sic] lived here for the past fifty years. Her husband died twenty years ago. He was one of the best known members of this city. Mrs. Wuechner was a prominent member of the St. John's church. She was a faithful and ardent worker for the church and her loss will be deeply felt. She was also a charter member of [its] Women's Aid Society... The deceased is survived by four children and seventeen grandchildren. The children are Mrs. Edward F. Stepp, Mrs. Marie Martin, Mrs. Louisa Ludeke, and Mrs. Margaret Latterner, all [sic] of Bellevue, Neb. The funeral will take place at 2 o'clock from the residence Monday afternoon. Rev. Dickman will officiate. The burial will be in the Greenwood Cemetery.
~greenwood agrees with age, dates, and spouse—and likewise names the deceased "Catherine."

● The Schwabs: "Beer That Made Milwaukee Jealous"
Elizabeth/Catherine's name-alternation is more mystifying when you consider she had an older first cousin, also living in Hamilton, named Katherine Miller. Born in 1827, she married Daniel Schwab (pronounced "Swope": 1826-1911) the brother of local mogul Peter Schwab (1838-1913), who ran the Cincinnati Brewing Company—which despite its name was located in Hamilton at 336 South Front Street. The Schwab brothers had emigrated from Bavaria to New Orleans, Daniel in 1847 and Peter in 1850; they became coopers and moved north to Ohio. Peter bought an existing Hamilton brewery and by 1890 "was advertising his Pure Gold brand as 'the beer that made Milwaukee jealous'... Through aggressive selling and competitive pricing, Schwab's Pure Gold Beer gained a market that stretched from Washington, D.C. to St. Louis, and from Detroit and Pittsburgh into southern states." (As per ~schwab.) On Dec. 1, 1900 the Evening Democrat reported:
Yesterday Mrs. Mary Neiderman, the venerable mother of Mrs. Peter Schwab, celebrated the 80th anniversary of her birth. Mrs. [Mary Elizabeth Niederman] Schwab planned a neat surprise on her mother by inviting a number of her friends to take dinner with her at the Schwab's [sic] lovely new home on Court and Front streets... At noon the dining room was thrown open and the ladies, seated about a beautiful table laden with flowers, were served with a delicious collation. The afternoon was happily passed and a group picture taken of the company. Those who enjoyed the day with Mrs. Neiderman [included] Mrs. Elizabeth Wuechner...
Daniel Schwab evidently reached Hamilton OH and married Katherine Miller by 1850, since their eight children were all recorded as Ohio-born:
* Peter Schwab (born Feb. 5, 1851: worked as a distiller/brewer/malster/casting weigher; died aged 73 on Dec. 30, 1924, buried at Greenwood)
* Elizabeth Schwab (born May 19, 1852: married cigarmaker John C. Schneider [1848-1906] c.1874 and had at least five children; died aged 58, on June 17, 1910; buried with husband at Greenwood)
* Anna Katherine Schwab (born Aug. 20, 1854: called "Catherine" in the 1860 census; a dressmaker in 1900; died aged 73 on Feb. 24, 1928; buried at Greenwood)
* Daniel Schwab, Jr. (born Aug. 9, 1857: worked as a watchman; married Emma Young (1860-1925); died aged 55 on Apr. 4, 1913; buried at Greenwood)
* Mary Katherine Schwab (born July 25, 1859: a milliner in 1880; then in 1883 married Charles S. Bosch, of whom more below)
* George Schwab (born May 29, 1864: a blacksmith in 1880, then a bartender in 1900; died just short of 61 on May 22, 1925; buried at Greenwood)
* Henry A. Schwab (born 1867, a "common laborer" in 1900; died aged 33 on Nov. 15, 1900; buried at Greenwood)
* John M. P. Schwab (born Oct. 13, 1871: a barkeeper in 1900; died aged 34 on Feb. 18, 1906; buried at Greenwood)
The 1870 census said Daniel Schwab came from Wurttemberg and Katherine from Bavaria. In the 1880 census, "Dan'l" Schwab hailed from "Rhein Pfalz" (transcribed as "Rheinofalz") and "Katte" from "Neiuberg."
Katherine Miller Schwab died aged 68 on Nov. 9, 1895 and was buried at Greenwood four days later. Her husband Daniel died aged 85 on Dec. 23, 1911 and was eulogized in the Dec. 28th Butler County Democrat:
DANIEL SCHWAB IS NO MORE. Daniel Schwab, a well known German citizen, died at his home, 647 Maple avenue, at 3:30 o'clock Saturday afternoon of indigestion, and general debility, without warning. He was a native of Bavaria, Germany, and emigrated to America in 1847, landing in New Orleans. He proceeded from New Orleans via the Ohio river boat line to Cincinnati, and from there he came to Hamilton to make this city his future place of residence. He was a retired cooper, and well known. His wife preceded him in death 16 years ago...
Daniel's death certificate says he was born in "Germany Bavaria" on June 2, 1826; his parents's names were "Don't know" (as per daughter Anna); and cause of death was indeed "acute indigestion."

● The Bosches: From City Hall to Hotels
Thanks in part to their Schwab connection, the Wuechner family enjoyed a foothold in Hamilton society. The Sep. 20, 1894 Daily Democrat noted that Catherine Wuechner was current president of the St. John's Church Ladies's Society, hosting a meeting at her North Front Street home in honor of the society's founder, Mrs. Rupp. Among the attendees was a Mrs. Bosch, most likely Magdalena Breitling (Lena) Bosch, for whom a surprise 65th birthday party had been thrown six months earlier, as reported by the Mar. 13, 1894 Daily Democrat. Lena (1829-1900) was the wife of saloonkeeper Frederick Bosch (1829-1888) and mother of Charles S. Bosch, who'd married Mary Katherine Schwab on May 31, 1883. He served as Mayor of Hamilton from 1893 to 1906.
Born in Jacksonborough, Butler County OH on July 11, 1858, Charles S. Bosch came to Hamilton in 1870 and worked as a printer, cigarmaker, railroad clerk, depot master, and member of the school board. His election as mayor at age 34 was hailed by the Apr. 4, 1893 Daily Democrat as a "Glorious Triumph for Independent Voters and the Reform Movement." Re-elected several times, Charles suffered a bout of typhoid fever in 1904; he left office in Jan. 1906 and went into the hotel business, first with the St. Charles and then the Hamilton. Charles died July 31, 1917; his obituary two days later in the Butler County Democrat praised his "many public improvements suggested, started, and accomplished... The municipal electric light plant was built, the present extensive sewage system well established, the paving of the streets started... many things that were to bring Hamilton out from the class of an overgrown village into the class of a city with the conveniences of the city."
Be that as it may, Charles Bosch was twice mentioned by the New York Times in a less flattering light. First on July 14, 1896:
WANTS THE MAYOR IMPEACHED. Father Henry Anderson, President of St. Mary's Roman Catholic Church, caused a sensation here [i.e. Hamilton] to-day when he retained ex-Congressman H. L. Morey to draw up the necessary papers to impeach Mayor Charles S. Bosch. The father complains that he cannot sleep at night on account of hoodlums who gather in front of his parsonage and make [the] night hideous, and he says the Mayor refuses to afford him protection.
Followed on Sep. 2, 1903 by: "MAYOR CAUSES HIS BROTHER'S ARREST. A sensation was caused this evening when Mayor Charles S. Bosch caused the arrest of his own brother, Frederick Bosch, on the charge of permitting gambling at his house, the Hotel Atlas." (Whether that was any factor in Charles and Mary's going into the hotel business cannot, of course, be said.)
In Chapter L-4 ALLS calls Mary Schwab Bosch a second cousin of Louise Ludeke (daughter of Elizabeth/Catherine Wuechner); it was the Bosches's hotel that the Ludekes were headed to, but did not reach, during the Great Flood of 1913.
Mary and Charles Bosch had three children:
* Walter Charles Bosch (born Aug. 22, 1884: worked at the Hamilton Dime Savings Bank, then in hotels; c.1927 married Margaret K. or C. [surname? born c.1896-1900]; died aged 68 on Jan. 22, 1953 and was buried at Greenwood)
* Edna M. Bosch (born July 15, 1889: a hotel and department store clerk; died aged 59 on Apr. 19, 1949 and was buried at Greenwood)
* Lillian Marie Bosch (born Aug. 5, 1895: married Ralph William Mock (c.1891—Nov. 18, 1951: proprietor of the Republican Press) on June 29, 1916; had a daughter Mary Ellen Mock born Oct. 23, 1919); died aged 73 as Lillian Mock Henderson on Dec. 12, 1968 and, like Ralph, was buried at Greenwood); daughter Mary married a Mr. Steiger and died aged c.60 in Daytona Beach FL in Oct. 1979 (as per ~a's Social Security database)
"Graceful Edna Bosch" performed an elaborate Russian dance with her third cousin Robert Ludeke in one of "Mabel Chenault's dancing reviews" (as mentioned in Bob Ludeke's obituary).
The exact relationship of Norma D. Schneider aka Snyder to the Schwabs and Bosches is obscure. In 1942 she would be listed among Annie Koeppendoerfer's "great-nieces and -nephews" with Walter, Edna, and Lillian Bosch (who were actually Annie's first cousins twice removed). Norma's own death certificate, found at ~f, states she was born July 15, 1882 in Hamilton, daughter of John Snyder and Katherine Schwab. The 1915-17 Hamilton city directories identify her as housekeeper at the St. Charles Hotel, and 1919's as maid at the Hotel Hamilton—confirmed by the 1920 census, which shows her as a Schneider. As a Snyder in the 1930 census, she is listed directly after the Bosches (Walter, wife Margaret, mother Mary K., sister Edna) among residents of the Hotel Hamilton—but with relation "maid," not half-sister or cousin. Her father is said to be Kentucky-born. In the 1940 census she lives with Mary and Edna as "lodger," occupation "housework." (Perhaps she was Annie Koeppendoerfer's housekeeping protégée.) Norma died aged 68 on Oct. 25, 1950. ~greenwood shows both her parents as surnamed Schwab; she is not buried in the same plot (ZIO 112) as the Bosches, but in lot 218C—owned by Frank Crawford, to whom Norma was "sister in law." Frank's spouse was C. Marie Schneider Crawford (born c.1875, died Jan. 10, 1933) whose parents were John and Estella Schneider; she appears as "Marie K. Crawford" in the 1930 census—with a Kentuckian father. If Norma's mother was not Mary Katherine Schwab Bosch, nor her sister Anna Katherine Schwab who died unmarried, could it have been Peter-the-Mogul Schwab's second daughter Katharine/Catherine/Katie Schwab (1863-1894)?
After Charles Bosch's death on July 31, 1917, his widow Mary ran the Hotel Hamilton on South Second Street with Walter and Edna (and Norma Schneider/Snyder). By 1930 Walter and wife Margaret were the Hamilton's proprietors; Mary, aged 70, still lived at the hotel, as did daughter Edna (and Norma Schneider/Snyder). Mary Katherine Schwab Bosch died in Hamilton aged 84 on May 23, 1944, of "hypostatic pneumonia, cerebral thrombosis, and arteriosclerosis"; she was buried at Greenwood two days later.

● Three Obscurities
The 1900 census stated that Elizabeth/Catherine Wuechner had borne eight children, of whom four were then living. Of the other four, one is unknown and three are obscurities.
According to ~greenwood, a Carolina Wuechner (daughter of Catherine and Michael) was born Oct. 3, 1858 and died Sep. 1, 1859; she was buried the next day in the IE 379 family plot. Another Carrie Wuechner (born c.1865) appears in the 1870 census above; this must be same girl recorded by ~greenwood as Anna O. Wuechner, daughter of "L. Michael" and Catherine A.," who died Feb. 4, 1879 aged 14 and was buried on Feb. 6th in plot 1E 379. As for William M. "Willie" Wuechner (born c.1863, working in a hat factory in 1880), ALLS said only that he "died young as I recall—can't remember anything about him!!" ~greenwood states that "Weuchner, William M." expired on Dec. 22, 1882, aged 20 (son of "J.M. and E.") and was buried two days later in plot 1E 379.
The full roll call of known Wuechner children in birthdate order would be:
* Mary/Marie (born July 24, 1853/54)
* Louisa Elizabeth (born Feb. 14, 1855)
* Carolina (born Oct. 3, 1858)
* Margaret (born Sep. 11, 1860)
* William M. (born c.1863)
* Anna O./Carrie (born 1864)
* Sophia A. (born Mar. 1867)
It should be noted that Louise Wuechner Ludeke named her firstborn Caroline/"Carrie" in 1876, and her oldest son William in 1882.

● Aunt Marie Martin
ALLS: "Mary Wuechner, the eldest child [of Michael and Elizabeth/Catherine], married a Mr. Martin, moved to Bellevue, Nebraska, and changed her name to Marie... I saw Aunt Marie only a few times."
Mary aka Marie Wuechner was born in Hamilton OH on July 24, 1854—as per ~tree/martin-dale, ~tree/martin-redding, and her grave marker; the 1900 census said July 1853, which is indicated by her ages in the 1860-70 censuses. It also better accommodates Louise Wuechner's birth in Feb. 1855, which would follow a July 1854 birthdate by less than seven months.) She left school after eighth grade (as per the 1940 census, where her first name reverted to the original Mary).
On Sep. 20, 1888 Mary/Marie married William Franklin Martin, born in Indiana on Aug. 22, 1838 to Kentuckian parents, Moses Samuel Martin (1801-1881) and Frances Read (1806-1885). It was the first wedding in the Wuechner family since Louise tied the knot with August Ludeke thirteen years earlier; and it received fleeting, slightly inaccurate mention in the next day's Daily Democrat:
MORTON [sic]-WUECHNER—Miss Mary Wuechner and Mr. W. F. Morton were married at 8 o'clock last night at the residence of the bride's mother on North Front Street. Rev. E. C. Simpson officiated. It was a quiet ceremony[,] only the more intimate friends of the bride being invited. The presents were very fine. The couple left on the evening train for New York, Washington and Boston. They will then go to California to spend the winter. Their future residence will be Bellevue, Neb., where Mr. Morton has large property interests.
And in fact the 1900 census lists William as a professional landlord. Living with the Martins that year were Marie's sister Maggie and her son Stanley (of whom more momentarily). William and Marie had three children:
* Frances Read Martin (first name sometimes spelled "Francis"): born June 23, 1889 in Pasadena, California; was attending school in 1900, teaching school in 1910, marrying Frank Burdette Robinson (born Aug. 10, 1890: a carpenter) in Omaha on Aug. 24, 1912, and having daughter Dorothy Robinson circa 1915. The three Robinsons were living with Marie in 1920, but on the their own by 1930. Frances died June 3, 1970 in Bellevue NE and her husband Frank followed on Nov. 22, 1978.
* William W[uechner?] Martin: born Feb. 15, 1891 in Bellevue NE; attended school in 1900, had no listed occupation in 1910, and died that year on Sep. 17th.
* Ralph Eugene Martin: born Jan. 21, 1896 in Nebraska; in 1910 (aged only fourteen) was listed as working as a village mail carrier—unless that occupation should've been entered on his older brother's record, one line above; student at Bellevue College when he registered for the draft in 1917; served as a second lieutenant in World War I; "died of disease of other cause" (as per ~a's Adjutant General Military Records) in Toul, France in Dec. 1918
Marie's husband William died Dec. 1, 1903 and was buried at Bellevue Cemetery. Marie would be head-of-household through 1930, when at age 76 she was living alone in a Bellevue NE house worth $4,000. On Nov. 11, 1926 she revisited Hamilton and was honored there at a family dinner.
Mary/Marie Wuechner Martin died in Bellevue aged 86 (or 87) on Jan. 20, 1941 (~tree/martin-redding gives a Bellevue Cemetery burial date of Jan. 22nd). In 1930 she'd declined to take part in the World War I Mothers's Pilgrimage; but photos at ~g show her grave and husband William's are both decorated with American Legion stars.

● Aunt Maggie Latterner: Complication of Affections
Margaret Wuechner was born Sep. 11, 1860; the 1900 census would say Sep. 1859, but she doesn't appear with "May" and "Lewis" in the 1860 census. Maggie graduated from Hamilton High School in 1878, as per ~hamiltonhigh/1894, and worked as a schoolteacher through the 1880s. On Nov. 27, 1889 she married Gustav aka Gustave Latterner (aka Gustavus) of Middletown OH.
That town's 1880 census includes Charles Latterner [Sr.] from Bavaria, his wife Maria/Mary D. from Wurttemberg, and their ten children—the second of whom was "Augustus," born circa 1860. In 1880 Charles worked as a grocer and Gustav as a grocery clerk; but by the end of the decade Charles was the "sole proprietor of the Middletown Pump Works, one of the largest manufactories in the Miami Valley."
Maggie's wedding was the third of a Wuechner girl in fourteen months, and apparently the grandest ceremony of all. The Nov. 29, 1889 Daily Democrat gushed as follows:
LATTERNER-WEUCHNER [sic]—A charming little wedding was that Wednesday evening of Miss Maggie Weuchner, one of Hamilton's beautiful young ladies and Gustav Latterner, a wealthy young man of Middletown. The Weuchner residence was crowded early in the evening by a large throng of invited guests, all of whom were old friends. The mantels were banked with lovely flowers, the fashionable chrysanthemum being prominent among the decoration. The ceremony was performed by Rev. E. C. Simpson. The bride was dressed in a gown of white silk, decollete draped with net, with pearl ornaments. Shortly after the wedding an elaborate supper was served. At the plate of each guest was a beautiful souvenir in the shape of two kinds of wedding cake neatly done up in tissue paper and tied with white ribbon. At 10:30 the newly married couple were driven to the station where they took a late train for Chicago. Their departure was made amid a shower of rice. While away they will visit Mr. and Mrs. Stepp [Maggie's sister Sophie] near Bloomington, Illinois. They will return next week and go to housekeeping in Middletown, where Mr. Latterner has prepared an elegant residence for his bride.
Among the wedding guests were "Mr. and Mrs. Gus Ludeke and family... Mr. and Mrs. Chas. Bosch, Mr. and Mrs. Daniel Schwab... Mrs. Mary Martin... and Mr. and Mrs. Lattener [sic], parents of the groom," along with five of Gustav's siblings. The Dec. 19th Democrat reported that "Mr. and Mrs. Charles Latterner, of Middletown, gave a reception at their residence on Main Street in honor of Mr. and Mrs. Gus Latterner, née Wuechner, who have just entered upon the realities of married life." This sobering sentiment would be echoed nearly a century later by Maggie's great-niece ALLS:
Margaret Wuechner ('Maggie') married Gus Lattener [sic], who was wealthy (inherited his money)—lived in a huge house in Middletown, Ohio... had servants, 'the best of everything'—but [Gus] 'hit the sauce' too much, so Aunt Maggie was not particularly happy, in spite of her luxury life (a 'hush hush subject' in the family—ha!). Had one son [Stanley Wuechner Latterner: born Jan. 4, 1891]. In his adult life, [Stanley] worked and lived in Lima, Ohio (architect and artist... always gave landscape in oils as wedding gift)... I was frightened of Aunt Maggie—she was very aristocratic in actions and looks (beautiful clothes, furs, jewelry, furnishings in home—always very PROPER in all ways) so I kept out of her way—ha!... After her husband's death and after all the Wuechner family had left the old home (by death and marriage)—she bought the house and lived in it until her death... Uncle Bob [Ludeke] then bought the home, and a set of Haviland china 'used on special occasions only'... and the Ludeke family moved in!! [from 120 N. Front Street, next door.] Just to confuse you even more—dear old Aunt Annie Koeppendoerfer lived with [Aunt Maggie at 124 N. Front St.], doing all the work!... and a book could be written about her alone" (see below).
Whether or not as a side effect of "sauce," Gus Latterner tended to get talked about in the papers. For example, the Sep. 11, 1893 Daily Democrat:
A good one is told on Gus Latterner, the well-known pump manufacturer of Middletown. Last week his family were absent from home [visiting Hamilton en route to the Stepps in Carthage IL], and Gus went to the house and changed his clothes, as he was going to a lodge meeting. When he started for home about 11 p.m., he felt for his night-key, but it was gone. He remembered that in changing his clothes he forgot to take the key out. As the hotel was closed Gus was in quite a dilemma how to get into the house. He finally struck upon an idea, and went to the engine house and had two of the firemen bring a ladder, and by this means gained an entrance.
A more serious matter involving fire engines cropped up in the same newspaper on Nov. 24, 1893:
ATTEMPT TO BLACKMAIL—Gus Latterner, the Well Known Middletown Man—The Men Are in Jail. Grant Fox and Gus Schlinger were arrested in Middletown at an early hour this morning on a charge of blackmail. The Middletown Pump works were destroyed by fire last May, and at the time it was thought that the buildings were set on fire by some one who would be benefited, but nothing of the kind was ever proved. Gus Latterner, one of the stockholders of the Pump company, was confronted last week by the parties above named, Fox and Schlinger, with the statement that they knew that he was the party who had fired the works and that unless hush-money was at once paid to them, they would expose him. Mr. Latterner at once reported the matter, which resulted in the arrest of the parties by Constable Ike Stevenson, after several days search. They were locked up in the jail, awaiting their trial before Squire McGreevy.
Eight days later:
THAT ALLEGED BLACKMAIL CASE. The preliminary hearing of Daniel Schlangen [sic] and Grant Fox, charged with black-mailing Gus Latterner, of Middletown, was heard in Squire McGreevy's court yesterday. The trial... ended with the prisoners being bound over to the grand jury in the sum of $500 each. This case originated over the supposed incendiary fire which destroyed the Middletown pump works on the 22nd day of last May and the subsequent attempt to burn the new building on the 8th and 19th of October. Detectives William Morrison and Al Lowenstein were employed by Gus Latterner, proprietor of the works, and they worked forty-two days upon the case. Their efforts to fix the crime of arson on suspected parties proved fruitless. Schlanger [sic] and Fox, who were thought to know something about the origin of the fire, claim that they were lured into a scheme to blackmail Latterner by the latter and his detectives. They accepted $15 from Latterner and gave a receipt that designated hush money.
In an undated article (from the 1896-97 volume viewable at Google Books), the Ohio Legal News weighed in concerning a different case:
A suit of far reaching importance to bankers throughout Ohio and other states as well, was decided by a jury trial in the Butler [County] common pleas court, before Judge Neilan. It was the case of the First National Bank of Defiance, O., v. The Middletown (Ohio) Pump Co., wherein the bank brought suit to collect on $10,000 worth of drafts signed by Gus Latterner, as secretary of the Middletown Pump Co. It appears that the drafts were purely accommodation paper, and when called upon to pay them the company refused. The point of authority of Mr. Latterner, as secretary of the company, to sign its drafts was also raised. After a deliberation of twelve hours the jury returned a verdict of $4,598 for plaintiff. Had the defendants won the case no bank would feel secure in handling paper indorsed by a single officer of any corporation.
Finally on Apr. 20, 1899 the Butler County Democrat reported:
GUS LATTERNER OF MIDDLETOWN DEAD... Gus Latterner of Middletown, one of the best known residents of that town and a man very well and also very favorably known in Hamilton, died Thursday evening [Apr. 13th? 20th?] at 7:30 o'clock of typhoid fever. Mr. Latterner was born at Germantown, Montgomery County, 39 years ago. He settled in Middletown at an early age and by hard work, great industry and natural ability pushed to the front until he became one of the most substantial citizens of that town. Personally he was exceedingly popular. Mr. Latterner was married to Miss Maggie Weuchner [sic] of Hamilton and besides the grief stricken widow one son of 6 years survives him. Mr. Latterner contracted typhoid fever while traveling in the south for the Middletown Pump Co. of which he is secretary and treasurer. He came in from a trip about two weeks ago feeling sick. In a few days he was taken to his bed with a very severe case of typhoid and he kept growing worse each day until Thursday night when the vital spark fled. The Elks of this city and Middletown have lost a very prominent member... He was to have taken part in the recent Elks' minstrel show at Middletown but was too sick to take his part. He was down on the program for a song entitled "Asleep in the Deep." Alas, how soon he himself fell asleep in that eternal deep.
In the 1900 census, Gus's widow and son are recorded as Margaret and Stanley "Satterner," living in Bellevue NE with Maggie's sister Marie Martin. By 1902 "Lattermer [sic] Marguerite [also sic], widow of Gustav" appears in the Hamilton city directory at 124 N. Front along with "Wuechner Catharine, widow of Michael" and "Koeppendoerfer Anna K." In the 1910 census, "Margt. Latterner" (aged 49) was owner of the old Wuechner place; her household included 19-year-old son Stanley, 58-year-old aunt Anna Koeppendoerfer, and 49-year-old roomer Arthur Helwig (an insurance agent). Stanley, having graduated from Hamilton High School, earned a Bachelor of Architecture degree from Ohio State University in 1913.
Margaret Wuechner Latterner died aged 58 of double pneumonia on Mar. 14, 1919, and the following obituary appeared in that day's Daily Republican-News:
Mrs. Margaret Latterner, widow of Gustav Latterner formerly of Middletown whose death occurred some years ago, died at her home, 124 North Front Street at 10:30 o'clock last night of a complication of affections [sic], aged 58 years. Margaret Ludeke [sic] Latterner was born, reared and educated in this city where she was for some years a teacher in the public schools. She was married to Gustav Latterner in November 1889 and resided in Middletown until the death of her husband in 1899 when she removed to this city and had lived here ever since. She leaves one son, Stanley W. Latterner, and three sisters, Mrs. E. F. Stepp and Mrs. Marie Martin, of Bellevue, Nebraska, and Louise Ludeke, of this city. She was for a number of years a member of the Presbyterian church of this city and her death marks the end of a beautiful Christian life. Due notice will be given of the funeral.
The same day's Evening Journal reported:
Margaret Latterner, widow of the late Gustav Latterner, died last night at 10:30 o'clock at the home of her sister, Mrs. Louise Ludeke, 124 North F [sic] street, at the age of 58 years, 3 months and 2 days. Mrs. Latterner was born in this city where she spent her girlhood and resided until November 1889, when she was united in marriage to Gustav Latterner, then returning to Middletown. After her husband preceded her in death in 1899, Mrs. Latterner returned to Hamilton where she had since resided. Mrs. Latterner was a noble Christian woman and a member of the Presbyterian church. She is survived by one son, Stanley Latterner, three sisters, Mrs. Ludeke, Mrs. Marie Martin of Bellevue, Neb., and Mrs. E. F. Stepp and many friends.
Maggie was buried at Middletown Cemetery on Mar. 17, 1919. The following year Stanley Latterner (aged 27, occupation architect) was boarding with the Parent family in Lima OH. He married Margaret McGraw (1894-1978), moved to Toledo circa 1937 and supervised PWA projects in Cincinnati and Chicago. In 1940 they lived at 165 Parkside Boulevard; Stanley worked a 44-hour week as an "architect, designing buildings" for $4200. Two years later, when registering for the draft, Stanley's Toledo address was 2820 Oatis St. and he was employed by Mills Rhines Bellman & Nordhoff at 518 Jefferson. In 1949 the Latterners lived in Toledo at 2006½ Kensington. Stanley died aged 58 on Jan. 29, 1949 in Toledo's Mercy Hospital, of a myocardial infarction and coronary arteriosclerosis, and was buried on Feb. 1st in Lima's Gethsemane cemetery (as per ~f and the Lima News for Jan. 30-31, 1949).
Click here to read an ALLS memoir about having to spend New Year's Day with Aunt Maggie. In a late SFM, ALLS wrote:
I had a Great Aunt who was the "aristocratic lady" in our large family. Her name was Margaret Wuechner, my Grandma's sister, but she was usually called "Maggie" by the family. She married Gustavus Lattener [sic], a wealthy likable young man, who had acquired his money from his parents, and thoroughly enjoyed the good life. This included an adoring wife, a son, and spending his vast funds with happy abandon. He furnished a three story house in Middletown, Ohio with the best of all things, hired servants to accomplish the necessary duties, and was a "perfect husband and father." He arose late each day, and after being served a large breakfast, would be driven downtown to one of his many Clubs, where he usually played cards or pool with his idle friends, enjoying small talk while "sipping the bubbly." Usually he forgot to call his wife, or return home on time for the prepared dinner.

Young Margaret was eager to please her husband, and adjusted to her new style of living. She was taken each day to the city, leaving her young son in the care of his "Nanny," and she thoroughly enjoyed shopping in the better department stores, buying beautiful outfits to wear when she and her husband attended their many social functions. Her furs and jewelry were bought by Gustavus. This lifestyle was thoroughly enjoyed for about five years, but finally Margaret decided she needed to be more productive in her life; boredom had engulfed her, and she began living differently, such as personally taking care of her son more often, including him on her daily walks and excursions into nearby wooded areas for picnics. When Gus found out, he was very upset with her, and she suddenly realized he possessed a violent temper if his plans were altered even for a small bit. Fortunately, she did not obey his orders, and each day she became more independent.

Acting like a petulant child, Gus remained away from home for longer periods of time, and imbibed alcohol in greater quantities. It was very apparent the marriage was in turbulent waters, but Maggie staunchly kept her good wife attitude, and never for a moment decided on a separation or divorce... [She] moved into different quarters in their house, and Gus slowly drank himself into hopeless oblivion. Ten years of this existence finally took his life, and Maggie was free at last. After his death, she realized he had squandered all of their money, stocks and bonds. So by selling the huge home, most of the contents, her furs and jewelry, and with some financial help from her son [sic], she moved to another city (Hamilton, Ohio), living a few more years, a sad, bitter old woman. As a youngster, this was an excellent lesson for me, teaching me that money not properly used can be worse than not having a great amount of money. Also learning to accept, and adjust to any amount you have, and live a happy productive life with that.

● Aunt Sophie Stepp
Sophia A. Wuechner, the youngest child of Michael and Elizabeth/Catherine, was born in March 1867. She graduated from Hamilton High School in 1886 (as per ~hamiltonhigh/1894), spent a year at the Electric Shorthand Institute, and in 1887 took a job as stenographer with the Phoenix Insurance Company in Cincinnati. On Sep. 26, 1889 Sophie married Edward F. Stepp Sr. (born 1862 in Illinois to German parents), and the next day's Daily Democrat recounted the ceremony:
STEPP-WEUCHNER [once again sic]—Last evening was the occasion of the marriage of one of our city's brightest young ladies. Miss Sophia Wuechner and Mr. Edward Stepp, of Carthage, Ill., were at 6 o'clock united in marriage at the bride's home on North Front street by the Rev. Mr. Hermann, of St. John's church. The florist had tastefully decorated the parlors with beautiful flowers, and when Miss Jessie Stokes touched the keys of the piano and the couple attended by Miss Lillian Lorenz and Mr. Gaylord Davidson entered the parlor, the scene of this happy event was complete in every detail. The bride was attired in a neat and pretty gown of cream tulle over moire silk, and the groom wore the customary black. After the performance of the ceremony a very elegant supper was served to the assembled guests. The good wishes and friendly feeling to the couple of their many friends were expressed not only in words but in a number of handsome and useful gifts. Mr. and Mrs. Stepp left for Chicago and a tour through Michigan after which they will take up their residence in Carthage, Ill.
Among those in attendance were Mrs. August Ludeke and family, the Martins of Omaha, "Gustave Lattener" and his sisters, and the intriguingly-named Mame Rumple. This was the second wedding of a Wuechner girl in just over a year, followed—if not trumped—two months later when Maggie married "Gustave"; leaving 124 North Front St. empty except for Elizabeth/Catherine, her sister Anna Koeppendoerfer, and a roomer or two.
ALLS: "I saw Aunt Sophie only a few times. Liked her the best [of the Wuechner great-aunts]—sweet and gentle." Ed Stepp "came to Hamilton, O. one time to visit a cousin... he met Sophie at that time—which eventually grew into love-marriage and her move to Bellevue," Nebraska by 1900, joining Sophie's sisters Marie and (briefly) Maggie. With Sophie and Ed were their first two children, Mildred L. Stepp (born Sep. or Dec. 1890 in Illinois; worked as a voice teacher in 1920) and Raymond Englert Stepp (born May 16, 1892 in Illinois; by 1920, married Blanche [surname? born c.1888, died by 1940]; had a son, Raymond E. Stepp [Jr.] (1922-1997); worked as a "transfer salesman" in 1940; died Sep. 22, 1947 in Los Angeles). In Nebraska, the Stepps were joined by Catherine M. Stepp (born c.1900-01 in Nebraska; worked as a railroad clerk in 1920) and Edward F. Stepp Jr. (born July 31, 1902 in Nebraska).
Ed Jr. kept up acquaintance with his cousin ALLS, and after his death (on June 21, 1981 in Albuquerque NM) she produced a capsule biography: "To make money he had a paper route and in the fifth grade he sold popcorn to Bellevue College students. At 16, did labor work in Omaha packing houses... Graduated from Bellevue High School in 1921 [and] University of Nebraska in 1925. He told me he taught philosophy at the University—but he loved to 'toot his own horn' so well, I didn't believe him. (Grandma Ludeke always said Ed Sr. was a 'blow gun'—so like father like son???...) Guess he was telling the truth, because a recent [1983] letter from his wife [Bonnie Morrison Stepp, born 1905: a nutritionist] stated she had given a sum of money in Ed's name to the Philosophy Department to buy books."
Ed Sr.'s occupation varied from to butcher in 1900 to cement contractor in 1910 to "tire shop" in 1920 to "merchant, soft drinks" in 1930; by which year he and Sophie were living on their own in Bellevue; Ed Sr. died in 1936 aged c.74. In the 1940 census, the widowed Sophia was sharing a home with her sister "Mary Martin," but must have soon joined her son Raymond in Los Angeles. She died there aged 74 on May 11, 1941 (as per ~a's database of California deaths) and the next day's Los Angeles Times noted she was at Edwards Brothers Colonial Mortuary. The youngest Wuechner child was buried at Glen Haven Memorial Park in Sylmar, Los Angeles County CA, and her marker can be see at ~g. Ed Sr. and son Raymond are also interred there.

● Aunt Annie Koeppendoerfer: Tante Anna
The surname Köppendörfer or Koeppendoerfer may be deciphered as someone from a "head" or "top" village, or perhaps a village named after a diminutive of Jakob—both cases being Köppen + dörfer.
Anna Katharine Koeppendoerfer, daughter of Fred and Elizabeth Koeppendoerfer and younger half-sister of Elizabeth/Catherine Miller Wuechner, was born May 4, 1851 "in a small community of good German stock." She can't be located in the 1860 census, but in 1870's we find "Kependaffer, Anna" aged 17, born in Baden, occupation domestic servant in the Hamilton home of William Huber MD with his wife Mary and their seven children, ten households down the page from the "Wuechlers." This entry implies that Anna's good-stock birthplace was in Germany itself, and that she came over to Ohio during the 1860s—brought perhaps by her mother (likewise unlocatable in 1860) to join their sister/daughter Elizabeth/Catherine. However, Annie's own obituary below called her a lifelong Hamiltonian. According to the 1940 census, she left school after fourth grade—i.e. circa 1861.
After 1870 we again lose track of Anna, this time for eighteen years. Was her surname simply mangled beyond recognition in records and newspapers? At any rate, by 1888 she was living with her widowed sister in the Wuechner home; and the 1900 census gives Ohio as her birthplace, as would always appear in future. 1910's census agrees that Annie was still at 124 North Front Street, living with (if not "doing all the work" for) niece Maggie Latterner; and when Maggie died in 1919, Annie stayed on at the old Wuechner place, though not as permanent owner. She's listed as head-of-the-house (which she rents) in the 1920 census, and landlady to three roomers: hotel porter William Beatty, traveling salesman Oscar Shubert, and "solicitor for a laundry" Ed Falkenstein—who later married Annie's great-niece Frieda Ludeke. Shortly thereafter Annie's great-nephew Bob Ludeke bought #124, bringing over his mother Louise to join her Aunt Annie there. Also brought to #124 was young ALLS, who called Annie "a precious little soul—everyone loved her!"
Annie Koeppendoerfer's great-great-great-niece Mila Jean (the present author's future mother) memorialized her in a flowery 1940s high school essay:
Having many responsibilities in her own home as a young girl, she knew little of the carefree childhood that most of us only take for granted. [When] her mother died [sic] ...she then did housework for some of the better families, those who could then afford to have a 'hired girl.' She preferred doing this rather than live with relatives because she did not want to be a burden on anyone... She was known as Miss Anna, and later, as an aunt to many nieces and nephews, she was recognized as Aunt Anna or Tante Anna to most everyone in the community... Being deprived of proper schooling didn't prevent her from reading good literature, learning to speak correctly, and having perfect manners... Annie was taught early that 'children should be seen and not heard,' and she practiced that rule all her life... I well remember her quietly sitting in her favorite rocker, alert to all being said, but never speaking unless she had something worthwhile to contribute... But Annie was far from being a shy little mouse. She patiently taught her nephews and nieces how to whistle through [their] teeth... the best way to shoot marbles... to master the intricacies of 'jacks' [and] how to spin a top...

She possessed curly soft hair, very large expressive grey eyes, small and dainty features, and a smile that was a joy to see. I never could understand why she didn't marry, for she had many beaux, danced better than any one of her friends, and was very popular, but taking her responsibilities at home very seriously, she no doubt considered her duty to her mother more important than marrying and her own happiness... [She] possessed a beautiful singing voice too, and she sang in church choirs when a young girl, and I remember on many occasions even when she was quite old, of hearing her softly singing an old German song around the house in her rich contralto voice... I don't believe I ever knew anyone who was so immaculately dressed at all times. For morning wear, she always wore a black or dark gray percale or gingham print dress, full apron of checked gingham, and sunbonnet donned if she chanced to go out in the sun, and for afternoon and evening, she always changed to a plain black dress... topped with a snowy white apron. On the Sabbath (she never referred to it as Sunday) she wore plain black silk, with a touch of white lace around the high collar, and a lovely white lace-edged apron was worn... high black laced shoes, and gloves were an essential part of her costume... Her fine gray hair was worn simply in little braids at the back of her head for morning time, and in a soft knot and 'frizzed' in the front...

[She was] always helping others, their welfare coming first. When any of the family or neighbors were ill, they could always count on her being by their bedside to comfort them... either by actual nursing them through their illness, or by just sitting quietly and talking to them and helping them to forget their misfortunes. Annie had one serious illness when she was very old, and all despaired of her getting well, but after many weeks in bed, she calmly announced one day that she had been a burden on folks long enough, and it was high time she was getting up and about. So double-pneumonia couldn't even keep her down. After reaching the age of 92 [sic] years, Annie was still fairly active, and insistent in carrying on some of her daily duties. She was still cheerful at all times, but she said often that she felt it was time to leave because all of the relatives and friends of her own age were gone, and she felt she had fulfilled all her obligations.
Tante Anna died aged 90 on Apr. 6, 1942, "one beautiful spring morning." That day's Journal Daily News reported:
KOEPPENDOERFER RITES WEDNESDAY. Miss Anna K. Koeppendoerfer, age 90, died of pneumonia at 12:15 o'clock Monday morning in the home of her grand nephew, Robert Ludeke, 124 North Front street. She was born in Hamilton, May 4, 1851, daughter of Fred and Elizabeth Koeppendoerfer, and spent all her life in this city. She was a member of the Bethel church. Miss Koeppendoerfer leaves one niece [sic], Mrs. Mary Bosch, and several grandnieces and grandnephews, William Ludeke, Edward Ludeke, Robert Ludeke, Mrs. Walter Charles, Mrs. Frieda Falkenstein, Miss Edna Bosch, Walter Bosch, Mrs. Ralph Mock, and Miss Norma Schneider, all of Hamilton, and Stanley Latterner, Toledo. Funeral services will be held Wednesday afternoon at 2:30 o'clock in the residence with Rev. H. A. Dickman, pastor of Bethel church, officiating. Burial will be in Greenwood. Friends may call after 3 o'clock Tuesday afternoon.
In a late SFM on Annie, ALLS wrote:
I had the privilege of living with a very special lady, whose influence touched the lives of all the members in our family. She was the Aunt of my Grandmother, but not much older, and had been shunted from one home to another, serving more or less as a housekeeper. After her Mother's death [sic] she moved to a relative's house, earning a small salary as a kitchen helper. Several moves later, came to live with my Grandmother and her family.

Her name was Anna Koeppendoerfer, but everyone called her "Tante Anna" or Annie. She was a tiny, petite little lady, about five feet tall, always dressed the same each day in dark grey calico long skirt and shirtwaist, an apron, and always a sunbonnet to wear in the sun. On Sundays, the costume changed to black taffeta ankle length skirt, black silk shirtwaist, and black high laced shoes. Her one time away from home was going to church each Sunday, and she looked forward to this always.

When any family member or friend or neighbor was ill, the first to help was Annie, bringing flowers from the yard, a favorite bit of food, or just sitting with the patient and soothing him or her with helpful conversation. She had the ability to sense what should be done around the house, to help someone, in more ways than I would have time to enumerate. I was told by my Grandmother that Annie had many beaux when she was young, but she always felt her need to help others was more important than marrying and having children. As a child, I often asked her if she did not get tired of always doing housework, but she assured me that she was happy just knowing that she could help her family, and have a comfortable home to live in. I could not understand how helping with the washing, ironing, mending, cleaning, and gardening was fun, but later on in my life, I realized the many other things she was giving our family.

She taught my Dad how to whistle, taught one Aunt how to crochet, another Aunt how to set a table correctly, showed an Uncle that planting a stone from a peach into the ground would in time produce a fruit bearing tree. She even taught me how to spin a top, and many times told me that "Ladies do not cross their knees." My own daughter had the benefit of sitting on her lap and listening to her stories. So in her quiet little ways she contributed so much more than just being a servant, and now I realize my life would have been far less interesting had it not been for my darling little Annie. At nearly ninety-one years of age, she died quietly in her sleep, saying Goodbye with dignity, and no doubt went on to another world to help someone there.

● "A Unique Conversation"
ALLS wrote the following in the early 1990s. The old Wuechner/Ludeke house could not have survived till then, though ALLS may have been allowed to believe so. Her imaginative story-weaving veers a bit off the loom with its indication that August Ludeke boarded with the Wuechners from the very start of their marriage. In actuality, Chapter L-3's censuses show Gus living in Hamilton with his widowed mother Sophia as late as 1870.
Hello to you across the street, may I introduce myself to you? Since we are the two remaining buildings left in this immediate area, we should become acquainted with each other. I am the large modern hotel built here in the last five years, using the best materials available, and collaborating with a group of experienced architects. Many rooms are furnished to accommodate any size of potential customers, no conveniences have been overlooked. I am never empty, providing shelter for travelers, conventions, and any guests visiting the Miami University campus, only fifteen miles from here. Naturally at graduation times and university sports events, I am a welcome stopover for many visitors. My spacious dining room can provide the best of foods for all who request it at any time. The back rooms overlook the Little Miami River, the south rooms face the imposing Soldiers and Sailors Monument, the north rooms view the local St. Stephens Medical Center, with any necessary health needs just a few steps from here. Also the Police department and Fire department are very near to us for protection. I am so proud of myself, and I am anxious to hear about you and your history, sometime in the near future.

Greetings Hotel, I enjoyed your recent message with full descriptions of your new building. I have been here for many years, and I expect to remain here for many more, unless some group decides for progress I should be demolished. Just after the Civil War was over, this location was discovered by a German man who lived in Cincinnati [sic], and decided to build a house for himself, and future life. He travelled to Hamilton Ohio, twenty-five miles away, and found a settlement of Germans already living there. He felt satisfied he had found the perfect spot for his "dream home." He bought land near to the river, needing transportation from Cincinnati to carry his necessary building materials, and created detailed plans in his mind.

Fortunately there was a local brickmaking company in Hamilton, and he ordered a huge amount of red brick to be made for his use in his building. This man was Michael Wuechner, a builder in Cincinnati, Ohio [sic] by trade, and a beautiful dreamer. He finally had all the necessary equipment and supplies delivered to this present site, and only then he realized he needed a younger strong man to help him in finishing his house. A young man, August Ludeke originally from Germany, had located in Cincinnati also [also sic], and failing to find work there, went to Hamilton for better luck. He met Mr. Wuechner in a local store, and from mutual conversations was soon hired to be the assistant builder of the potential home. The work progressed very slowly, but also beneficially, and eventually (without any architects and without blue prints) I was finished, using only four competent hands, strong backs, healthy bodied, and a combination of dreams and hopes for a happy future.

When completed enough for occupancy, Mr. Wuechner sent for his fiancée [sic] living in Cincinnati, and they were soon married [also sic]. They rented a bedroom to Gus Ludeke, and he used it while working on other building projects in Hamilton, Ohio. From the Wuechner marriage, four daughters and one son were born, and similar to a Fairy Story, eventually Gus fell in love with Louisa, one of the daughters, and later married her. He built a cottage next door to the big house, and the newlyweds lived there, with eventually their family of seven children. As the years passed, deaths, marriages, and moving to other cities emptied the original brick home. Then the Ludeke family moved here into my inviting surroundings.

Compared to your grandeur, I am very humble, but I have always had family love to keep me warm and alive. Our families have never been without good healthy food prepared by family cooks in a small kitchen. Our health needs were protected by three experienced doctors living in the immediate neighborhood. What more could we have had, and used for all of our happy lives?

In conclusion, may I, the story weaver, explain that Michael Wuechner was my great-grandfather, and Gus Ludeke was my paternal grandfather, and Louisa, his wife, was my Grandmother. My "mentor" in life. My Mother, my Father, my special advisor always. I had the supreme good fortune to live in the large three-story brick home (124 N. Front St.) for almost twenty years, and have only the best memories of it all.

Notes
† The two Rhenish provinces were once (and would again in future be) the Rhineland Palatinate or Pfalz, which we encountered a century earlier in Chapter P-1 as the starting point for many who went on to become the Pennsylvania Dutch.
Hamilton, Ohio

● Some material on Hamilton OH was obtained from ~butlercounty, ~hamilton, ~hamilton/cvb, and ~ohiohistory/hamilton.
● "On May 28, 1986, as part of a plan to increase publicity about Hamilton, the City Council voted 5-1 in favor of adding an exclamation point to the city's name. Thus, Hamilton officially became Hamilton! While used extensively in the city's documents, letterheads, business cards and on local signage, Hamilton! was not successful in getting Rand McNally to use the new moniker on state maps." (As per Wikipedia.)
● Williams' Hamilton Directory for 1871 (found at ~a) was prefaced: "We present to our patrons the sixth issue of the Hamilton Directory, believing it will be found a correct and reliable guide to the Business Houses, Offices, Residences and Public Places of the City. The canvass to collect the information contained in the Work was superintended by H. Thornton Bennett, Esq., whose reputation as an experienced, energetic and reliable compiler is not surpassed by any one engaged in the business. Every means that a long experience as publishers could suggest, was used to prevent errors and the omission of the name of any inhabitant, and no labor or expense was spared by us in our endeavor to present to the citizens of Hamilton a Directory, as perfect as a work of the kind can possibly be made. We trust that an examination of the Directory will prove that we have not expended our labor in vain.... Our new Directory, for 1871, contains over Four Thousand Names, which is a larger number than is contained in any Directory previously published for the City. Within the last few years the City has greatly increased in population, and a large number of residences have been erected—some of which for architectural beauty and mechanical finish are unsurpassed in the State."
● Hamilton's 1871 Business Directory had the following categories: Agricultural Implements, Architects, Attorneys at Law, Auctioneers, Bakeries, Banks, Barber Shops, Basket Makers, Batting (Cotton), Bee Hives, Bending Factories, Billiard Rooms, Blacksmith Shops, Boarding Houses, Boiler Makers, Book Binder, Books and Stationery, Boots and Shoes, Bran Dusters, Breweries, Broom Manufacturers, Cabinet Makers' Marble, Carpenters and Builders, Carpets Oil Cloths &c., Carpet Weavers, Carpets Oil Cloths &c., Carriage Manufacturers, Chair Makers, China Glass and Queensware, Cigars and Tobacco, Civil Engineer and Surveyor, Clothiers, Coal and Wood Dealers, Cologne Spirits and Whiskies, Commercial College, Commission Merchants, Confectioners, Contractors, Cooper Shops, Coppersmith, Cupper and Leecher, Dentists, Distilleries, Drain Tile, Dress Makers, Druggists, Dry Goods, Dyer, Edge Tools, Elevator Builders, Engraver, Express Companies, Exchange Office, Fancy Goods, Feed Stores, Felt Saddle Blankets &c., Fence Makers, Fertilizers, Flour Mills, Fruit Dealers, Furnaces (Hot Air), Furniture, Galvanized Iron Cornices, Gas Company, Gents' Furnishing Goods, Gift Enterprise, Glass and Wooden Ware, Grain Dealers, Grain and Seed Screens, Grocers, Guns Pistols &c., Gunsmiths, Hair Jewelry, Hardware, Hardware (Saddlery), Hats Caps Furs &c., Hay Dealer, Hay Rakes, Horse Shoers, Hotels, Hub Manufacturers (see Spokes Hubs &c.), Insurance Agents, Iron Founders, Iron Mantels Grates &c., Justices of the Peace, Leather Findings &c., Lightning Rods, Lime Cement and Plaster, Livery Stables, Loan and Money Brokers, Lumber &c., Machinists, Malt Houses, Marble Mantels &c., Marble Works, Meat Stores, Millinery, Mineral and Soda Water, Musical Instruments, Music (Sheet), Music Teachers, News Depots, Newspapers, Notaries Public, Notions, Nursery, Oysters Fish and Game, Painters House and Sign, Paints Oils &c., Paper Hangers, Paper Hangings, Paper Machinery, Paper Mills, Photographers, Physicians and Surgeons, Pictures Picture Frames &c., Planing and Flooring Mills, Plasterer and Stucco Workers, Pleasure Garden, Plow Manufacturers, Plumber and Steam Fitters, Pork Packer, Portrait Painter, Power Presses Punches &c., Printers, Pump Makers, Real Estate Agents, Reaper and Mowers, Reaper Sickles and Mower Knives, Renovator, Restaurants, Rope Walk, Saddles and Harness, Saloons, Sash Doors Blinds &c., Saw Manufacturers, Saw Mills, Saw Mill Manufacturers., Sewing Machines, Show Cases, Silver and Plated Ware, Slate Roofer, Spectacles Eye Glasses &c., Spokes Hubs &c., Steam Engines, Stencil Cutter, Stone Yards, Stoves and Hollow-ware, surgical Instruments, Surveyor, Tailors (Merchant), Tanneries, Telegraph Companies, Threshing Machines, Tin Copper and Sheet Iron Ware, Tin Roofers, Tinners' Tools, Tobacco Moulds, Toys Fancy Goods &c., Turners (Wood), Undertakers, U.S. Commissioner, Veterinary Surgeons, Wagon Makers, Watches Clocks and Jewelry, Wines and Liquors, Wood Working Machinery, and Woolen Factory.
● Hamilton's 1888-89 Business Directory added the following categories: Art Tile Manufs., Artists, Attorney at Law, Auctioneers, Bath Rooms, Beer Bottlers, Beer Coolers, Bill Poster, Bird Fancier, Blackboards, Boiler Feeders, Boiler Manufs., Bricklayers, Brick Yards, Bridge Builder, Brokers (Money), Brokers (Stock and Grain), Broom Material, Brush Scourers, Business Colleges, Canned Goods, Carriage Dealer, Carriage Material, Caster Manufs., Chairs Adjustable, Chimney Tops, Cider Manufs., Clothing Renovators, Collecting Agents, Commissioner United States, Cots Adjustable, Daily Markets, Dairies, Diamonds, Dress Cutting Teacher of, Engineer Consulting, Extension Table Manufs., Fire Brick and Clay, Florists, Fountain Pen Manuf., Furniture Manufs., Furniture Cars, Furniture Repairer, Furs, Gas Filters, Grain Cleaning Machinery, Grain Drills, Grain Elevator, Grinder, Grocers (Wholesale), Grocers (Retail), Gunsmiths, Hair Goods, Hammers Power, Hardware Manufs, Hardware and Cutlery, Harness (see Saddles), Hay Fork Manuf., Hay Rake Manufs., Head Blocks, Hides Pelts &c., Horse Dealers, Hosiery Manufs., Hot Air Furnaces (see Warm Air Furnaces), Hydraulic Machinery, Ice Cream Manuf., Ice Dealers, Ice Tools, Ink Mills, Insurance Companies (Accident, Boiler, Fire—Foreign, Life—Foreign, Plate Glass), Iron and Steel, Kindergarten, Lamps and Fixtures, Laundries, Live Stock Dealers, Locksmiths, Machine Tools, Machinery Light, Maltsters, Mantels and Grates, Mattress Manufs., Medicines Patent, Merchant Tailors (see Tailors Merchant), Metal Signs, Midwives, Moldings, Music Sheet, Music Stand Manufs., News Dealers, Notaries Public, Notions, Nurse, Oils, Paper Makers' Felts, Paper Manufs., Paper Mill Machinery Manufs., Pianos and Organs, Piano Tuners, Plastering Hair, Poultry Breeder Fancy, Printers Book and Job, Pumps Steam, Rags Metals &c., Railroad Station Pumps, Rake Manuf., Road Engine Manufs., Roofer, Saddles and Harness, Saloons, Salt Dealers, Sausage Manuf., Saw Filer, Saw Gummers, School, Second Hand Stores, Sewer Pipe, Sheet Iron Work, Sign Painters, Silver Gold and Nickel Platers, Slaughter Houses, Spokes Hubs &c. (see Hubs Spokes &c.), Sporting Apparatus, Stair Builders, Steam Fitters, Steam Pumps, Steam Pumping Machinery, Stenographer, Stone Masons, Stoves and Tinware, Tanners and Curriers, Teamster, Teas and Coffee, Telephone Company, Toiler Articles, Tramway Locomotives, Transfer Company, Trunks, Underwear Manuf., United States Commissioner (see Commissioner United States), Vapor Stoves, Vinegar Manuf., Wardrobe Manufs., Warm Air Furnaces, Water Works Machinery, Well Driver, Wheel Manufs., Whiskies (Wholesale), Window Shades, Wines Native, Wood Dealers, Wood Engravers, Wooden Shoes Manufs., and Woolen Mills.

The Wuechners
● The 1900 census shows Elizabeth/Catherine to have been born in Aug. 1835 rather than 1834—and claims she'd been in America for 44 years, having emigrated from Germany in 1856 (instead of circa 1848). On the plus side, it shows both Elizabeth and sister/housemate Anna Koeppendoerfer to have the middle initial "K."—implying that they, like cousins Anna and Mary Bosch, had Katherine (often recorded with an initial C, and sometimes spelled "Catharine") as their middle name.
● In the 1850 census of St. Clair Township (just north of Hamilton OH) a 17-year-old German-born Elisabeth Miller is found living with hotelkeepers Michael and Cath Morner. Elisabeth's occupation field is blank, but the Morners had two young children (Albert aged three and John aged one) who might have needed looking after. That same year, a 17-year-old German-born Catherine Miller was living in Cincinnati with the Warhault family; again no occupation is listed, but the Warhaults had five children aged ten to one. No traces of any Wuechners or Koeppendoerfers have been found in Ohio's 1850 census.
● In the original Dec. 27, 1853 marriage entry, the mysterious Eliza's surname appears to be Koppendorfer; an alternate online transcription shows "Koppindorfer."
● "Rev. A. Anker" was most likely Reverend Alvis Anker, who on Sep. 17, 1848 ("assisted by a Rev. Porter of Cincinnati") dedicated St. Thomas Old Orthodox Lutheran Church in Brookville, Franklin County IN. "Evidently Rev. Anker was filled with a missionary zeal, for he remained here for but one year and then went on to assist in establishing other new congregations" (as per ~stthomas/lutheran). Brookville is about 25 miles due west of Hamilton OH.
● The present author did not realize the "Miechners" in the 1880 census were in fact the Wuechners, till speculating why Elizabeth Koeppendoerfer was boarding with them.
● Biographical and Historical Sketches: A Narrative of Hamilton and Its Residents from 1792, Volume II (by Stephen Decatur Cone, published 1901, viewable at Google Books) states on pp. 375-76 that August Benninghofen was born Dec. 4, 1827 near Dusseldorf "in Rheinish Prussia." He came to Hamilton OH in 1856, and "went into the woodwork machinery business in which he was engaged from 1866 to about 1885. At the end of 1885 Mr. Benninghofen embarked in the business coal" [sic]. He served for two years on the Hamilton City Council, was the first candidate initiated in Lone Star Lodge No. 39 of the Knights of Pythias, and "stands high in business circles; is honest in all his dealings, and is kind to everybody." He died in Hamilton on Dec. 14, 1912, having just turned 85, with occupation "coal merchant" on his death certificate; and was buried at Greenwood.
● The Feb. 11, 1888 Daily Democrat announced that August Benninghofen had received the coming season's contract to furnish city buildings with coal. The 1888 Hamilton city directory listed him as a "Lime, Plaster and Cement" merchant; there and in the skimpy 1889 Hamilton telephone book (~hamilton/phone), "Benninghofen, August: Coal and Lime" has his office at Fourth and Basin Streets.
● The Daily News's Oct. 3, 1931 article that mentioned Benninghofen & Wuechner was titled "When Silk Hats Were Made Here!—That's One Industry That Passed by the Wayside But Is Mentioned in the Days of Half Century Ago."
● Others buried at Greenwood Cemetery include five Congressmen—John Woods (1794-1855), Lewis Davis Campbell (1811-1882), Henry Lee Morey (1841-1902: retained as counsel by Father Anderson against Mayor Bosch in 1896), Warren Gard (1873-1929), and Raymond Hugh Burke (1881-1954: served as Mayor of Hamilton 1928-40). Also at Greenwood are General Ferdinand Van Derveer (1823-1892), Family Feud host Ray Combs (1956-1996), and brothers Larry and Roger Troutman of the group Zapp (respectively 1944-1999 and 1951-1999); as per ~findagrave/greenwood.
● Elizabeth/Catherine Wuechner had fifteen known grandchildren (three Martins, one Latterner, seven Ludekes, four Stepps) of whom all but Carrie and Louis Ludeke were alive when she died in 1904. If the "seventeen grandchildren" in her obituary was not a typo, two others are unaccounted for.

The Schwabs and Bosches

● Peter Schwab and two partners purchased the existing Sohn brewery on Hamilton's South Front St. in 1868. Peter left the group two years later, but bought out his ex-partners in 1874. Six years after his death—an event headlined by the Sep. 15, 1913 Evening Journal as "Peter Schwab, One of Hamilton's Best Loved Citizens, Passes to His Eternal Reward"—the Cincinnati Brewery succumbed to Prohibition; as per ~schwab.
● In the 1870 census, Peter Schwab (aged 33, occupation distiller) owned $100,000 in real estate and $125,000 in personal estate. In 1880 he was a "brewer & malster" living on Front Street; 1900's census located his household at 325 South Front. His wife transformed from 37-year-old Caroline in 1870 to 41-year-old "C." in 1880 to 51-year-old Mary E. in 1900. 1910's census clarifies that Peter and Mary E. were each other's second spouse, having wedded circa 1888.
● Mary Elizabeth Neiderman was born Feb. 5, 1849 in Butler County OH. In 1870, the future Mrs. Peter Schwab was living near Paddys Run in Ross Township with seven siblings, her Bavaria-born father Jacob Neiderman (age 58, a farmer), and Bavaria-born mother Marian Neiderman (age 49). According to ~g and ~greenwood, her mother was named Mary Margaret Niederman née Schalk, and died aged 93 on Jan. 10, 1914. Mary Neiderman Schwab herself died aged 89 on Apr. 5, 1938, and was buried at Greenwood.
● Daniel Schwab's family appears as Swab in the 1860 census, living in Hamilton's 2nd Ward. Katherine, like her second daughter, is entered as "Catherine."
● Details about the Schwab children were taken from federal censuses, ~f death certificates, and ~greenwood. Anna grows steadily younger through the censuses, from 18 in 1870 to 25 in 1880 to 44 in 1900 to 40 in 1910.
● Rev. C. A. Herrman of St. John's Church (the "Rev. Mr. Hermann" who married Sophie Wuechner to Ed Stepp) officiated at Henry Schwab's funeral (as "C. A. Herman") according to the Nov. 17, 1900 Evening Democrat; also at August Ludeke's funeral (as "C. A. Herrman") in 1893—of which more in Chapter L-3.
● In Aug. 1902 the Deustcher Krieger Bund (German Warrior League: a veterans's association) held their four-day national convention in Hamilton OH. Mayor Bosch, Peter Schwab, and Rev. Hermann were on the hosting committee. The convention opened at Lindley's Hall (on the southwest corner of High and Front Streets) and paraded from the Courthouse to the Butler County Fairgrounds: as per ~lanepl/bund. (Just fifteen years later, Ohio would be swept by an anti-German backlash when America entered World War I.)
● The Jan. 27, 1888 Daily Democrat reported the death of Frederick Bosch Sr. Born in Germany on Sep. 22, 1829, he came to Hamilton in 1870 after serving as a private in Company G of the 167th OVI from May to Sep. 1864. In the 1880 census Frederick lived in Hamilton's 2nd Ward with 51-year-old wife Lena, 21-year-old son "C." (Charles, cigar maker) and 19-year-old daughter "L." In 1900 eldest child Fred C. Bosch (born Mar. 1855 in New York, occupation "restauranteur") was living in Hamilton with wife Emma (born Jan. 1859) and "daughter" Gustave (born Feb. 1880: gender field has F overwritten with M). Lena Bosch died July 27, 1900.
● Mary and Walter Bosch are mentioned in connection with the Hotel Hamilton in the Feb. 24, 1919 Daily Republican News and the Jan. 7, 1928 Daily News. Mary and her children appear as "Borch" in the 1920 census.
● When Norma Schneider is listed as such (as opposed to Snyder) in Hamilton city directories of the 1920s, her name appears directly after that of Moritz Schneider.)
● In the 1940 census and city directory, Mary and Edna M. Bosch lived with lodger Norma "Snyder" at 812 High Street; Edna was a clerk/saleswoman at the Robinson-Schwenn Store for $500/year. All three had left school after eighth grade. Walter C. and Margaret K. Bosch (both high school graduates) lived at 124 Ludlow; Walter had no occupation, Margaret was a seamstress working out of home, and they had a divorced watchman lodger, Loren Scott. Ralph W. Mock ("owner printing co.") had a 52-hour workweek, with no income listed; he and Lillian (but not daughter Mary Ellen) lived at 1003 Park in a house they owned worth $10,500. Lillian had graduated from high school; Ralph left after tenth grade.

Aunts Marie Martin, Maggie Latterner and Sophie Stepp

● Almost a year before wedding a Nebraskan, "Miss Mary Weuchner [sic] of North Front Street was pleasantly surprised by a number of her friends last night. She leaves next Monday for Omaha, Neb., where she expects to locate." (As per the Oct. 12, 1887 Daily Democrat.)
● A "Society Gossip" squib in the Sep. 21, 1888 Daily Democrat referred to the newlywed bride as "Miss Marie Weuchner" [sic], but spelled "Wm. F. Martin" correctly.
● Some info on "Mary or Marie Wuchner" [sic], her husband, daughter, and son-in-law was obtained from an ~f entry that grossly underestimated Marie's birthyear as circa 1867—presumably taken from her daughter Frances's Pasadena birth certificate.
● Marie's response to the 1930 World War I Mothers's Pilgrimage was found at ~a.
● ~tree/martin-dale gives Marie a deathdate of Dec. 21, 1939, but ~g's entry for Bellevue Cemetery agrees with ~tree/martin-redding on Jan. 22, 1941; as does Marie's grave marker.
● The full roster of Charles and Maria/Mary D. Latterner's ten children: Mary A. Latterner (born circa 1855-57), Gustav/Augustus Latterner (born 1860), Caroline Latterner and Rosina/Rosanah Latterner (born circa Aug. 1861: twins?), Catharine Latterner (born c.1865), Elizabeth Latterner (born circa Sep. 1866), Charles D. Latterner (born circa 1868-69), Frederick H. Latterner (born 1870), Edward Latterner (born circa 1873), and Louis A. Latterner (born circa 1874-76). They were settled in Middletown as early as 1870, when Charles Sr. (born Mar. 1833 in Bavaria: emigrated in 1851) was a retail grocer with $6,500 in real estate and $6,700 in personal estate. By 1900 his wife Maria/Mary (born c.1833) had died, and only Rosina, Elizabeth, and Louis still lived with their father in Middletown.
● In the 1900 census, Charles Latterner [Sr.]'s occupation is "Manufac-Buggy Bds," and son Louis is a bookkeeper.
● The 1885-86 Teachers' Blue Book for the Public Schools of Ohio (Boyd, Joseph; Groneweg Bros., Dayton, viewable at Google Books) says Maggie Wuechner had taught primary school in Hamilton OH for the past six years. In 1887 she was at the Third Ward School; two years later she and a Miss Klein were moved to the old Masonic Building at Third and Dayton, which had been rented by the Hamilton school board for class recitations. (As per the Jul. 12, 1887 and Apr. 3, 1889 Daily Democrats.)
● ALLS hazarded that Aunt Maggie had died in "1918 or '19," and Uncle Bob bought the old Wuechner place at that time; but the 1920 census shows the Ludekes still in the cottage at 120 N. Front St, while #124 next door was being rented by Aunt Annie Koeppendoerfer and her three roomers.
● The Latterner set of Haviland china eventually ended up with ALLS's daughter Mila Jean Ehrlich.
● The June 24, 1895 Daily Republican remarked that "Judge Giffen today handed down several decisions of importance. Among them was the case of Grant Fox vs. The Middletown Pump Co. and Gus Latterner et. al. in which the Judge granted a new trial to the pump company... This was the case in which Latterner and Fox arrested [sic] for alleged blackmail, of which charge Fox was acquitted."
● However many scrapes Gus Latterner got into, they paled beside those of his brother Charles Jr. in the Oct. 11, 1893 Daily Democrat:
PUT ON SKIRTS. Charles Latterner, Jr., son of Charles Latterner, the wealthy manufacturer of Middletown, is again in custody. It will be recalled that he was arrested in Santa Fe, N.M., for forgery committed in Durango, Colo. Following his capture he was released on habeas corpus proceedings... A dispatch from Santa Fe Monday night stated that since the young man's release he has been hiding in the house in the suburbs of the city. Monday night he appeared on the streets in female attire, his disguise doubtless being prompted by a desire to communicate with friends. He was taken in charge by officers and given a sentence of sixty days in jail for his nocturnal jaunt in girl's togs... [Charles Jr.] was one of the first young men of [Middletown], but became dissolute and went west, three years ago. He has never returned home since his departure.
(The description of Charles Sr.'s Middletown Pump Works was taken from this article. Charles Jr. cannot be located after 1893; though a "C. W. Lattermer" [sic] born in Ohio in 1868 to German-born parents, was rooming with the Bedol family in Beaumont TX in 1930.)
● Stanley Latterner's birth record (at ~f) shows his mother's maiden name as Wagner; Wechner is the spelling on his death record.
● Stanley's employer, the architectural firm of Mills Rhines Bellman & Nordhoff, designed such Toledo landmarks as the National City Bank Building, the Secor Hotel, and University Hall.
● The 1900 census said Sophie Wuechner was born in Mar. 1868. Her stenography training and career were found in the May 12, 1887 Daily Democrat.
● During ALLS's freshman year at Miami University in 1925-26, her cousin Catherine Stepp sent her a cameo that had been her engagement ring "before she and her fiancé had a spat, and she gave everything away."

Aunt Annie Koeppendoerfer and the Hubers

● ALLS consistently spelled Annie's surname "Keppendoerfer," as did several Hamilton city directories (while others used "Koeppenderfer"); all other non-garbled sources show it as Koeppendoerfer. I have silently added the first O to all ALLS citations.
● On Annie's 1942 death certificate, her mother's maiden name is entered as "Elizabeth (unknown)"—the second word not absolutely clear, but very likely given its parantheses. Elizabeth and Fred Koeppendoerfer's birthplaces are both Germany; Annie's is Hamilton OH.
● In a very late retelling of Tante Anna's story, ALLS noted that "years ago, if money was necessary to a family, young girls were sent to other homes to do general housework. Sometimes these girls finished grade schools, sometimes they were as young as twelve years old. They washed, ironed, and mended clothes, scrubbed floors, washed dishes after meals, took care of very young children, and other hard tasks. They had no privacy, so slept on a cot in the cellar. This was fine in the winter, but in the summer, with no windows for air, it was uncomfortable."
● The Huber family (Annie's employers) lived at 127 North Front, across the street from #124. Head of the household was William Huber, Doctor of Medicine (born 1813 in Lebanon PA), who in 1870 had $30,000 in real estate and $10,000 in personal estate. He relocated to Hamilton OH in 1841 and five years later married Mary Downs Budd of Pemberton NJ (1825-1915). They had seven children: Anna Huber (born circa 1849, married James A. Martin, died by 1935), Clara B. Huber (born c.1853-54, married W. N. "Nick" Gray), Mary B. Huber (born c.1855-56, "died in early womanhood"), William L. Huber [Jr.] (1857-1928), Alice D. Huber (born May 19, 1860, "one of the outstanding teachers in Hamilton's public schools," died Oct. 22, 1935), Eloise Huber (1865-1938, lived in Olney IL), and Lilian Huber (1868-1957). In the 1870 census, Eloise and Lilian appear as "Eleanor" and "Lenarda." Their father died May 7, 1889 and that day's Daily Democrat eulogized him (slightly redundantly) as "a gentleman of fine attainments [who] stood high in his profession and was a thorough and polished gentleman."
● Alice and Lilian Huber were the "old-maid Huber sisters [who] kept calling for help" during the Great Flood of 1913. After the deaths of their mother Mary and brother William, they were the last to occupy "the beautiful old homestead on North Front street, near High street" (as per Alice's fulsome obituary in the Oct. 22, 1935 Daily News Journal.) In the 1940 census, 70-year-old Lilian and 87-year-old sister Clara Gray (a widow who in 1935 lived in Olney IL) lived at 127 N. Front, a house valued at $7000.
● A July 30, 1933 photo was taken of year-old Mila Jean Smith with "My Great Great Great Aunt Anna."
● Annie's surname is spelled "Koeppenderfer" in the 1938-39 Hamilton city directory, and on her 1942 death certificate. The latter says she died of lobar pneumonia (onset Apr. 1st) and "general debility." Frieda Ludeke Falkenstein was listed as informant and signed the certificate.
● ~greenwood says Anna K. "Koppendoerfer" died aged 40 (rather than 90) and was buried Apr. 8th in the Wuechner plot 1E 379—adding that her parents were Catherine and Michael "Weuchner": in reality her sister and brother-in-law.)
● Another branch of the Koeppendoerfer clan came from Regelsbach, Bavaria and settled in Frankenruth, Michigan. These were four daughters of Georg Ko(e)ppendoerfer (1797-1846) and Barbara Ruhl (born 1805): Sibylle Koeppendoerfer Held (1832-1856), Anna Kunigunda Koeppendoerfer Roth (1833-1877), Catherina Koeppendoerfer Brenner (born 1836), and Margaretha Koeppendoerfer Haubenstricker (1841-1901), plus their brother Johann Andreas Koeppendoerfer (1843-1917): as per ~cousins. No connection can be found to the Koeppendoerfers who settled in Hamilton OH, other than a (possibly) mutual Bavarian background.


Return to the Fine Lineage Index Page

Go to the Fine Lineage Sources Page

Last updated February 20, 2016


Return to the Skeeter Kitefly Website Index

Copyright © 2003-2013 by P. S. Ehrlich; All Rights Reserved.