THREE: PENNSYLVANIA DUTCH (AND SWISS)
"SFA" stands for the Smith Family Archives, assembled and transcribed over many years by Leanna Lois Claudia Smith, daughter of Alonzo; her great-nieces Mellie Morris Smith (daughter of Herbert Gustavus) and Gertrude Fairchild Smith (daughter of Maurice Leigh); and great-great-niece Mildred Aileen Nash (neé Mellie Agnes Smith: daughter of Francis See).

"SEK" stands for correspondence with Sandi Evilsizer Koscak, webmaster of the site Champaign County [OH] Genealogy, compiling years of extensive research in not only Champaign but Clark, Logan, Miami, and Shelby Counties to create a comprehensive genealogical database. Excerpts from this are represented below as ~yeazell/david, ~yeazell/william, ~yeazell/yocum, ~yeazell/lucy, ~yeazell/warnock, and ~yeazell/irene.

"LLBJ" stands for correspondence with LaVonna L. (Beaver) Jones of Indianapolis, who provided copies of Lydia Josephine Wikel Yeazell's death certificate, and obituaries for her husband and youngest child. Some of this, plus much else, can be found at ~beaver.

Internet sources are indicated by tildes (e.g. ~internet). A complete list can be found on the Sources page. Due to the transient nature of Internet entries, only a few hyperlinks will be provided to outside webpages; such as ~a (www.ancestry.com) and ~f (www.familysearch.org). The United States Federal Census records for 1850 through 1930 cited below are available at ~a (except for 1890's, which was badly damaged in a 1921 fire and later quietly destroyed).

P-3 Samuel and Leah


● Where Did They Marry?
Samuel Wikel [Sr.] (christened Weikel and buried ditto) was the eldest child of John Wikel [Sr.] and Mary Ann Snyder (from Chapter P-2). Born Oct. 7, 1815 in Hanover PA, he would outlive all his siblings except the two youngest sisters. We have no reason not to believe that he moved to Ohio with the rest of the Wikels, in or around 1833. Certainly he stayed put when his parents moved on to Illinois in 1849; Samuel, like his brother William, got married and began a family in Middletown, Butler County OH. But just how he and his wife got to that point is nowhere explained.
The SFA says Leah Upp was born Apr. 16, 1816 in York PA. ~quick/upp says her birthdate was Apr. 4, 1816, but doesn't give a birthplace. ~upp/pdf concurs on the Apr. 4th birthdate, adding that Leah was baptized on May 12, 1816 at Wolf's St. Paul Reformed Lutheran Church in York County.
All sources agree Leah's parents were named George and Lydia Upp. ~quick/upp and ~upp/pdf say Lydia's maiden name was Schramm, but differ on whether George's surname was Upp or Ob. ~ohpauldi/jesseupp and ~upp/messages spell Lydia's maiden name as Shrum. (See Chapter P-4 for more about Leah's parents, thirteen siblings and sixty-two nieces and nephews.)
Our Leah Upp (daughter of George Upp) should not be confused with her slightly older cousin Leah Upp (daughter of George Upp's brother: see Chapter P-5)—nor with yet another Leah Upp (daughter of a different George Upp) who was born in Aug. 1849 and married Jacob L. Felty in 1875 (as per ~felty). ~upp/pdf gives our Leah the middle name Elizabeth, derived from Middletown's 1870 census; this appears nowhere else, and since the previous census called Leah "Lidia," it may be incorrect. (Especially since the same thing happened to one of Leah's granddaughters in 1880.)
~quick/upp alone provides a year—1838—for Leah's marriage to Samuel Wikel; yet no one seems to have a clue as to where their wedding took place: whether Samuel returned to Pennsylvania, or Leah came to join him in Ohio, or both were already in Butler County OH. If ~upp/pdf's listing of Leah's siblings is accurate, George and Lydia were still begetting children in Pennsylvania as late as 1837. (And it should be noted that long-distance travel in the 1830s was, at best, a challenge. Mrs. Trollope in Domestic Manners of the Americans [1832] and Dickens in his American Notes [1842] give descriptions of disagreeable journeys by stagecoach. The Miami and Erie Canal would not be completed until 1845; and while work began on the Little Miami Railroad in 1837, it didn't fully connect Cincinnati with Springfield until 1848. So opportunities for romantic cross-state elopements were somewhat limited.)
At any rate, Samuel and Leah would have five children (that we know of):
* Ellen Margaret Wikel: born Feb. 8, 1840 in Middletown (of whom see more in Chapter S-2)
* Henry A. Wikel: born c.1842
* Mary Elizabeth Wikel: born Apr. 28, 1848
* Lydia Josephine Wikel: born c.1850-51
* Samuel A. Wikel [Jr.]: born c.1853
Middletown's 1840 census shows Samuel Weikel heading a nameless household of one male in his 20s, one female in her 20s, and one girl aged under five: that is, himself and Leah and Ellen. By 1850 this Middletown household had expanded to include:
* Saml Wikel (age 33) born in Pennsylvania, occupation tobacconist, owner of real estate valued at $550
* Leah Wikel (age 33) born in Pennsylvania, a person over 20 years of age who cannot read and write
* Ellen M. Wikel (age 10) born in Ohio, attended school within the year
* Henry A. Wikel (age 8) born in Ohio, attended school within the year
* Mary E. Wikel (age 2) born in Ohio
~uppfamily/index estimates the birthyears of Samuel Jr. and Lydia Josephine as 1848 and 1849 respectively; but neither child appears in the 1850 census. 1860's sheds a bit of light on the youngest Wikels, though not with great clarity:
* Samuel [transcribed as "Vanuel"] Weikle (age 45) occupation tobacconist, $1400 in real estate, $1000 in personal estate [both figures hard to decipher]
* Lidia [sic] Weikle (age 44)
* Henry Weikle (age 16) occupation day laborer
* Mary Weikle (age 13) occupation "day," also attended school
* Lidia Weikle (age 10) born in Ohio, attended school
* Samuel Weikle (age 8) born in Ohio, attended school
* Phillip Witzel (age 28) born in Pennsylvania, occupation carpenter[? also hard to decipher]
Whether this last member of "Vanuel's" household was supposed to be a Wikel (or even a Weikle) is beyond answering. As for eldest child Ellen, she'd married Alonzo C. Smith in 1859 and was living in Paintersville OH with newborn Herbert Gustavus; for more about them see Chapters S-2 and S-4.

● Comrade Wikel
On Apr. 24, 1861, Samuel Wikel (though a grandfather by then) "enlisted in the first call of President Lincoln for 75,000 men." Serving as a private in Company G of the 12th Ohio Infantry under Captain Hill, he spent three months at Camp Jackson in Columbus before his enlistment expired and he was mustered out on July 30th. Three years later Samuel reenlisted in one of the "100-Day regiments" (of which see more in Chapter B-6): Company G of the 167th Ohio Infantry, serving as first corporal from May 2 to Sep. 8, 1864. Samuel's brother William, a Mexican War veteran, was a soldier in the same company.
~167th reports that this regiment was organized under Colonel Thomas Moore in Hamilton OH, mustering in on May 14-16, 1864. A few days later the 167th moved to Charleston WV (not to be confused with Charles Town in the Eastern Panhandle) where six companies were stationed at Camp Piatt and four at Gauley Bridge, accompanying supply trains and guarding government stores. (See the Notes below for a recap of earlier Civil War action at these and surrounding locations.) The 167th mustered out Sep. 8, 1864, having lost five enlisted men to disease. As for First Corporal Samuel Wikel, according to ~wikel/army:
He was not engaged in any regular battle but while out on [a] foraging expedition at Sewell Mountain, Virginia, they were surprised by a band of rebel Guerillas and in their attempting to escape by getting on the horses, Comrade Wikel was injured in the side and groin, and was confined in the hospital at Camp Loop when he left it rejoining his company in opposition to orders to remain in the hospital... He was never captured although narrowly escaped at Sewell Mountain.
Back in Middletown for the 1870 census, Comrade Wikel's household consisted of:
* Wikel, Samuel (age 53) occupation cigarmaker, $3000 in real estate and $700 in personal estate
* Wikel, Elizabeth [sic] (age 53) occupation keeps house
* Wikel, Josaphine [sic] (age 19) occupation helps in house
* Wikel, Samuel (age 18) occupation clerk in drug store
The June 4, 1880 census correctly names (and spells) both Samuel and Leah. They still reside in Middletown, each aged 64; Leah continues keeping house while Samuel's occupation is "none," and with them is 29-year-old daughter "Lydia J. Wikel," occupation dressmaking. Soon afterward they moved to Urbana in Champaign County OH, joining daughter Ellen and her family; and took a house on West Market Street, from which Lydia Josephine was married on Dec. 10, 1882. If the address was 207 W. Market, the house would be occupied by Ellen, her daughter Leanna, and Josephine's daughter Irene in 1900.
On Feb. 1, 1885, one of Samuel Wikel's grandsons wrote to another (as can be read in Chapter S-3) that "when I got to Grandpa's he was not there nor at the office or the church. He came down about half past seven from Dowell's, said that he was not dressed or shaved, that I might have dressed up better and anyway it was too late to go." (A scratchy patch of personality that Samuel passed down to generations of male descendants.)
Leah Upp Wikel died in Urbana on Feb. 9, 1895, aged 78, and was buried back in Middletown; a Reverend Middleton [sic] conducted her service out of the Humphries Funeral Home. Samuel Wikel [Sr.] died in Urbana on Dec. 20, 1898, aged 83, and was buried beside his wife.

Henry A. Wikel, second child and elder son of Samuel and Leah, was born Oct. 1842 in Middletown. He served as a soldier through nearly the entire Civil War, enlisting on June 10, 1861 in Company A of the 26th Ohio Volunteer Infantry. Discharged by a surgeon's certificate of disability in Florence, Alabama on June 20, 1862, Henry re-enlisted Sep. 12th in Company I of the 5th Ohio Volunteer Cavalry. According to the SFA, he was captured in Lexington TN the following Dec. 17th and paroled at Camp Chase OH on a "date not given," formally mustering out on June 26, 1865.
Returning to civilian life in Ohio, Henry lived in 1870 with his sister Mary Elizabeth, her husband David McChesney and their son George in Franklin Township, Warren County OH. A year later in 1871, Henry A. Wikel appears in ~warren/marriages tying the knot with "Tolbert, Ella." This lady was not only eight years Henry's senior but already the mother of five children, with no evidence of possessing a monetary fortune; so we may presume that Henry was truly smitten.
Rachel Ellen Hughes, born Oct. 9, 1834 in Maryland, was the youngest of twelve children of Daniel Hughes (1781-1840) and Rachel LeSourd (1879-1857). She married Julius Caesar Tolbert (born Jan. 7, 1836) in Butler County OH on Feb. 10, 1853; they moved to Illinois and had five children—the first arriving less than four months after the wedding:
* Florence Viola (Flora) Tolbert: born June 7, 1853; married Edmund Douglas Hicks (1856-1934) in Pike County IL on Mar./May 29, 1883; had five children; died Jan. 20, 1930 in Orange County CA
* Lillie Luella Tolbert: born Aug. 12, 1855; married Charles Hicks (1854-1896); was living with her mother and stepfather in 1900
* Austin Brooks Tolbert: born Sep. 16, 1857; married Mary E. Sullivan (born 1867) on June 4, 1890; had one child; died June 21, 1935 in Chicago
* Clarence Augustus Tolbert: born Oct. 15,1859 in Bloomington IL; married Harriet Faustina "Hattie" Canfield (born 1860) on Nov. 25, 1880; died Aug. 8, 1939 in Aloha OR
* Harriet Loretta Tolbert: born Mar. 31, 1862; married Robert Harvey Duncan (born 1852) on Jan. 23, 1879; had two children; died May 17, 1928 in Maryville MO
The 1860 census of Dry Grove Township, McLean County IL (whose seat is Bloomington) includes:
* J C Tolbert (age 29) born in Ohio, occupation farmer
* Rachael Tolbert (age 25) born in Indiana [sic: the only non-Maryland birthplace entry for Rachel in federal censuses]
* Florence Tolbert (age 7) born in Illinois, attended school
* Lillia [sic] Tolbert (age 5) born in Illinois, attended school
* Auston [sic] Tolbert (age 3) born in Illinois, attended school
* Clarence Tolbert (age 1) born in Illinois
* Benjamin Tolbert (age 34) born in Ohio, occupation farmer [was this J.C.'s older brother or cousin?]
Julius Caesar exited from Rachel's life between 1862 and 1871. A logical guess would have been that he was killed in the Civil War and Henry married his widow—except that ~schliesserhicks shows J.C. not dying until Dec. 27, 1893—more than two decades after his wife remarried. Nor is this a typo, since the 1880 census of Crawfordsville IN includes a J.C. Tolbert born c.1836 in Ohio, working as a dairyman and living with a female "Francis" Tolbert (whose age is blank).
So what were the state of things back in 1870, the year before "Ella" Tolbert took Henry Wikel as her second husband? We don't know: most frustratingly, neither J.C. nor Rachel/Ella nor their daughters Lillie and Harriet can be tracked down in the 1870 census. As for the other Tolbert children: Flora (transcribed as "Lora"), aged 16, was a servant with the Gorsuches of Liberty Township, Butler County OH; her brother Clarence, aged 12, was a farm laborer for the Mauds of Butler County's Union Township; while Austin "Talut" [transcription of an indistinct surname: occupation is blank], also aged 12, was living with the Thompsons far off in Burton, Adams County IL.
It would certainly seem that Rachel's household underwent a monumental breakup between 1862 and 1870. But its details, and whether any of the Tolbert children accompanied Rachel when she married Henry in 1871, remain a mystery.
Known for sure is that Henry and Rachel had one child of their own: Josephine G. Wikel, born Sep. 10, 1872. In 1880 the family still lived in Franklin Township, Warren County OH:
* Wykel, Henry (age 37), occupation farmer
* Wykel, Rachel (age 45), occupation keeps house
* Wykel, Josephine (age 7)
* McChesney, J. (age 61), boarder [was this John Irwin McChesney, father of Henry's brother-in-law David?]
By 1900 the Wikels could be found at 1602 W. New York St. in Indianapolis:
* Henry A. Wikel (age 55: born "Aug. 1844") occupation laborer, iron works
* Rachel E. Wikel (age 65: born Oct. 1834) married 29 years, 6 children, all living
* Lillie L. Hicks "nee Wikel" (age 44: born Aug. 1855) widow, no children, occupation saleswoman
* Edward Symmonds (age 33: born Jan. 1867 in Ohio) occupation railroad car repairer
* Josephine Symmonds (age 27: born Sep. 1872) married 10 years, 3 children, 2 living
* Gladis E. Symmonds [sic] (age 6: born May 1894 in Indiana) attends school
* Laura W. Symmonds (age 1: born Sep. 1898 in Indiana)
Circa 1890, Josephine Wikel had married Edward Symmonds (whose birthyear advances from 1867 to 1873 in later censuses); they moved from Ohio to Indiana by 1894 and had five children:
* [unnamed] Symmonds: born/died c.1892
* Gladys E. Symmonds: born May 25, 1894; married Walter Woodson on July 2, 1913; had a daughter, Edith Woodson (born c.Aug. 1918); divorced by 1920
* Laura Juanita Symmonds: born Sep. 17, 1898; married Thomas Andrews (born c.1896) c.1915; had two children: Edward Frederick Andrews (born Dec. 7, 1917, died Apr. 11, 1988 in Los Angeles) and Elizabeth Andrews (born Mar. 1919); Laura Juanita later married Augustus Jones c.1921, and died Aug. 5, 1989 in Los Angeles
* Charles Emmett Symmonds Sr.: born Feb. 11, 1903; married Nellie Irene Cain (c.1904-1967) on May 10, 1922; had two children: Evelyn Symmonds (born c.1923) and Charles Symmonds Jr. (born c.1925); died Aug. 21, 1966 in Beloit WI
* Glennys V. Symmonds born Dec. 7, 1911; died Oct. 15, 1998 in Indiana
By 1910 Edward Symmonds was listed as head of the household now living at 293 Bowen St. in Savanna, Carroll County IL, on the Iowa/Illinois border. In that year's census, Symmonds is spelled without its final S and then transcribed as "Sammond":
* Symmond, Edward (age 41) occupation railroad car inspector
* Symmond, Josephine G. (age 37) married 20 years, had three children, all living
* Symmond, Glady [sic] E. (age 15)
* Symmond, Laura W. (age 11)
* Symmond, Charles E. (age 7)
* Wikel, Henry A. (age 67) father-in-law, occupation laborer "odd jobs," on first marriage
* Wikel, Rachael E. (age 75) mother-in-law, on second marriage, married 40 years, one [sic] child, one [ditto] living
Rachael Ellen Hughes Tolbert Wikel died aged 80 on Jan. 21, 1915, perhaps in Savanna. With or without her, Rachel's family returned to Indianapolis; and there Josephine G. Wikel Symmonds died aged 46 on Mar. 17, 1919. She was buried at section 25, row 18, grave 36 of Mount Jackson Cemetery (as per ~mountjackson).
The 1920 Indianapolis census shows the following household at 1727 W. Market St.:
* Symmonds, Edward (age 51) married [rather than widowed], occupation railroad painter[?]
* Woodson, Gladys (age 24) divorced, occupation blank
* Andrews, Laura (age 21) married, occupation blank
* Symmonds, Charles (age 16) occupation "boiler-maker, water works"
* Symmonds, Glenys [sic] (age 8)
* Wikel, Henry (age 77) father-in-law, widowed
* Andrews, Edward (age 2 years 1 month) grandson
* Andrews, Elizabeth (age 10 months) granddaughter
* Woodson, Edith (age 1 year 4 months) granddaughter
* Andrews, Thomas (age 23) son-in-law, occupation machinist, auto factory
Henry A. Wikel was admitted to the Marion branch of the National Home for Disabled Volunteer Soldiers on Mar. 21, 1920: he was said to 5'8" tall with gray hair, blue eyes, and "[ability to] Read and Write—No." Henry remained there till Dec. 22, 1920; he would die from bronchopneumonia and arteriosclerosis on Nov. 2, 1921 (as noted by the Danville IL branch of the National Home) at the age of 79. Like his daughter Josephine, Henry was buried at Indianapolis's Mount Jackson Cemetery (section 17, row 24, grave 24: as per ~mountjackson).

● Mary Elizabeth and the McChesneys
The SFA knew no more about Ellen Wikel's sister Mary than that she married a Mr. McChesney, lived in Middletown OH, attended Mary Ann's 100th birthday with two of her children in 1892, and had a grandson named Howard Knepshield who reputedly played on Ohio State's football team in the 1930s. Thanks to the Internet we can now say that:
Mary Elizabeth Wikel, third child and second daughter of Samuel and Leah, was born Apr. 28, 1848 in Middletown and married farmer David McChesney in Butler County on Nov. 12, 1867. David was born in 1843 in Warren County OH, son of John Irwin McChesney (1819-1901) and Mariah Deardorff (died 1905). During the summer of 1864, he served as a private in Company B, 146th Ohio Volunteer Infantry (as per ~warren/vets). David and Mary Elizabeth had seven children:
* George Louis McChesney aka George Lewis McChesney: born Feb. 11, 1869 in Blue Ball, Warren County OH; married Laura Elizabeth Thompson (1871-1941) on Dec. 25, 1889; had six children†; was first a tobacco maker, then a patrolman with the Middletown Police Department c.1902-28; got shot while responding to a disturbance on Mar. 19, 1927; returned to limited desk duty but died while in surgery, July 18, 1928; buried at Middletown Cemetery
* Leah Maria McChesney: born Oct. 28, 1870; married George Wise and/or Lou Henderson; had a son, Walter Henderson, born c.1888; died Aug. 13, 1935
* Charles Wikel McChesney: born Feb. 17, 1872; married Dora F. Potts (1875-1965); had three children: Frances McChesney (born c.1898), Norman McChesney (born c.1906), and Dorothy McChesney (born when?); died May 2, 1912
* Zella Mae McChesney: born Jan. 13, 1873; died Dec. 1875
* Mary Elizabeth "Mamie" McChesney: born Feb. 6, 1879; wrote a letter to her cousin Samuel R. Smith on June 11, 1896; married Andrew Jackson "Jack" Brookover [Sr.] (1877-1947); had five children‡; died Feb. 24, 1951 (the last of her siblings) and was buried at Northwood Cemetery, Downingtown PA
* John Thomas McChesney: born Jan. 6, 1885; married Margaret Darmoody (1890-1950); died Mar. 23, 1945
* Pearl Vance McChesney: born Jan. 18, 1888; married Howard Leach Knepshield (1889-1972, son of Jacob Ulam Knepshield and Tillie H. Hillard) in 1909; had five children§; died Feb. 28, 1950 in Middletown
Photos of Mary Elizabeth, David, and most of their children can be viewed at ~disajohnson.
David, Mary, and year-old George lived in Warren County's Franklin Township in 1870, along with Mary's brother Henry Wikel. By 1880 the McChesneys were settled in Middletown:
* McChesney, David (age 33) occupation "in paper mill"
* McChesney, Mary (age 32) occupation keeping house
* McChesney, George (age 11) in school
* McChesney, Elizabeth [sic: presumably Leah Maria] (age 9)
* McChesney, Charles (age 7)
* McChesney, Mary F. [sic] (age 2)
Again we find a Leah recorded as "Elizabeth" in a federal census—this time Leah Upp Wikel's granddaughter/namesake.
By Dec. 1891, David's job at the paper mill was the dangerous post of fireman. On page 26 of The Locomotive: published by the Hartford Steam Boiler Inspection and Insurance Company; New Series Vol. XIII (1892: Hartford CN—available at ~boiler) we learn that:
A terrific boiler explosion occurred, on Dec. 21st, at the Waidlow, Thomas & Co. paper mill in Middletown, O., wrecking the brick boiler-house, and badly damaging one side of the mill. Fireman David McChesney was badly scalded and bruised, but, it is thought, will recover; while Geo. Lawrence, son of the superintendent of the mill, was also severely scalded about the face and body. A part of the machinery was badly broken and damaged.
David McChesney did not pull through; he died of steam burns on Dec. 28, 1891 (as per his death certificate and funeral home record, reviewed by ~warren/mcchesney).
In 1900 his widow Mary lived at 149 Curtis Avenue in Middletown, with her youngest children John and Pearl and dentist Robert A. Jackson as boarder. Ten years later the dentist was gone but Pearl's husband Howard Knepshield had joined the household (now at 646 Curtis), along with Mary's grandson Walter Henderson. He, John McChesney, and Howard Knepshield were all employed by the American Rolling Mill, as was Howard's father Jacob Knepshield; and Howard and Pearl's son Harold David Knepshield would be a third-generation Armco employee for over thirty years.
By 1920, Mary Elizabeth Wikel McChesney had the house in Middletown to herself. The last surviving child of Samuel and Leah Wikel, she died aged 80 on July 21, 1928—the same day as the funeral of her patrolman son George.

● Josephine, Irene, and the Long-Lost Yeazells
Lydia Josephine Wikel is the most obscure of Samuel and Leah's children. Born c.1850-51 in Middletown, she still lived under the parental roof in 1880, aged 29 and working as a dressmaker. The SFA (which knew her only as "Josephine") said she married a William Yeazell and lived in Indianapolis: as was deduced from accounts of her grandmother Mary Ann Wikel's centennial celebration in 1892. Among those expected was "Mrs. Yeazel [sic], of Indianapolis, Ind."; actual attendees included "Mr.[?] Wm. Yeazell, Indianapolis, Ind." The SFA also said Josephine and her husband had a child, Irene Yeazell, who was "adopted (not legally)" by her cousin M.L. Smith's wife; and that Irene had a daughter Ruth who was living near Urbana OH in 1984.
The Dictionary of American Family Names at ~a tells us that Yeazel (a variant of Yazell) is an "American reduced and altered form of Dutch van Ysselstein, a habitational name from the village of IJsselstein, near Utrecht." Another Dutch village called Ysselsteyn is part of the municipality of Venray.
1850's census counted 51 "Yeazles" in the state of Ohio, 47 of them in Clark County; 18 other "Yeazels" (transcribed as "Geazle") were found elsewhere. By 1860 there were 96 Yeazells/Yeazels/Yeazles in Ohio, and of these 70 lived in Clark County—46 in Moorefield Township, north of Springfield. By 1870 the total had grown to 119 in Ohio, 77 of them in Clark County; by 1880, expansion and dispersal had reduced Clark County's share to just half the sum—104 of 201. Even so, ~history/clarkmoorefield was correct in saying "the family is one of the best-known and most extensive in Clark County." Precisely how (or even whether) all these various Yeazells, Yeazels, Yeazles, Yazells, and Yazels were related will not be explored here. We are concerned only with finding a particular Yeazell: the one who married Josephine Wikel in the early 1880s and was the father of her child.
The present author found seven plausible candidates for this role, but each of them led down a blind alley to a dead end. Finally in Nov. 2009, diligent research by SEK cut through the confusion and tracked down the "culprit": William Andrew Yeazell, born Sep. 24, 1842, son of David Yeazell (1804-1890) and Esther Baumgardner (born 1806, died after 1889). David and Esther were married in Clark County on Jan. 19, 1826 and settled that year in Goshen Township, Champaign County OH. By 1850 the "Geazle" household included David (a farmer with $4,000 in real estate), "Ester" and three children: Sarah J. (age 17), Jacob (age 14), and William A. (age 7). Sarah J. Yeazell married William Hudson on Apr. 6, 1851, and Jacob Yeazell married Abigail Romine on Sep. 5, 1855 (as per SEK's ~yeazell/david). By 1860 David "Yazel" had $5,880 in real estate; William was working as a farmhand; and the household had been joined by grandchildren Gustavus A. Morris (age 11) and "Tabitha J. Morris" (age 5). The latter child remained with David and Esther in 1870 as domestic servant "Talitha Morse"; she would grow up to be Tellithia Morris Craig.
DAVID YEAZELL, farmer; P. O. Mechanicsburg; an early settler of Goshen Township; was born in June, 1804, near Yellow Springs, Greene Co., Ohio, and raised in Clark Co., till the fall of 1826, when he came to the place where he now resides, locating the 15th of December, in the house in which he now lives; he is the son of Abraham and Mary (Curl) Yeazell, the former a native of Kentucky, and the latter of Virginia. Abraham was among the early pioneers of Greene Co., whence he moved to Clark Co., when our subject was quite young; he dwelt on the same farm the remainder of his life; be was a farmer by occupation, and reared nine sons and five daughters, all of whom grew up to maturity and were married. Our subject was the sixth of the family, and his early life was that of a pioneer farmer. Since 1826, he has plied his industry as a farmer in Goshen Township, taking a creditable part in the improvement of the country for over half a century. He married Esther Bumgartner [sic], born in Greene and raised in Clark Co. Of the two sons and two daughters born to this union, one daughter has died.
This profile appeared on page 902 of 1881's The History of Champaign County, Ohio: containing a History of the County; its Cities, Towns, etc.; General and Local Statistics; Portraits of Early Settlers and Prominent Men; History of the Northwest Territory; History of Ohio; Map of Champaign County; Constitution of the United States, Miscellaneous Matters, etc., etc. (Chicago: W.R. Beers & Co.)—excerpted at ~history/champaign-g. SEK reports that David Yeazell died in Feb. 1890, leaving older son Jacob fifteen more acres than younger son William.
On Aug. 21, 1862 the 17th Ohio Independent Battery was organized in Dayton OH. ~history/clarkmil lists among its troops a "Corporal, Wm. A. Yeazell"; and a gap in the birthyears of William Andrew's children could be accounted for by their father's being away in the army. However, page 583 of the Official Roster of the Soldiers of the State of Ohio in the War of the Rebellion, 1861-1866, Vol. X (Cincinnati: the Ohio Valley Company, 1899—viewable at Google Books, and part of ~a's Civil War Soldiers database) shows "William H. Yeazel" in his place as corporal in the 17th Battery. This would most likely be William H. Yeazell of Moorefield Township in Clark County, born c.Feb. 1843, who was the present author's Nominee #3 to be Josephine Wikel's husband. (See the Notes below for more about him and the other Nominees.)
According to SEK, the probate court record of "Champaign County Marriages 1805-1864" shows William Andrew marrying on May 26, 1863—which would be three days after the birth of his eldest child. However, that eldest child would be shown in the 1900 census as born in "May 1864." Or if the probate record was off by a year, William Andrew might have wedded his bride on May 26, 1862 and impregnated her by mid-to-late Aug. 1862: nicely accommodating William's joining the 17th Battery, assuming he was in fact its "Corporal Wm. A. Yeazell." To be present at a May 1863 wedding, that corporal would've required furlough home just as the Siege of Vicksburg was commencing.
Whichever year his wedding took place, William Andrew Yeazell was married by W.B. Jackson MG to Louisann (aka Louisa, Louisana, Louisanna, Lucy Ann, and Lucy Anna) Yocum (born 1843, daughter of John Wesley Yocum [1805-1882] and Susannah Watson [1808-1892]: as per SEK's ~yeazell/lucy). Hers is one of those names that never get spelled the same way twice; it as "Lura" in 1870, "Lovina" in 1875, and "Luie" in 1880.
The 1870 and 1880 censuses list William's household next to that of his parents in Goshen Township, Champaign County OH. There he and Lucy Ann had four children:
* Otway R. Yeazell: born May 23, 1863 (or 1864?) in Mechanicsburg OH; married Matilda "Tillie" Lambert aka Mathilda Stedle (born July 1867) on Dec. 15, 1886; worked as an Indianapolis car inspector in 1886-90; had three sons: Raymond Albert Yeazell (Jan. 21, 1888—Apr. 3, 1965), Elmer H. Yeazell (Dec. 19, 1891—Mar. 22, 1920), and Otway Alfred Yeazell (Nov. 21, 1900—Nov. 9, 1978). Otway [Sr.] lived in Cincinnati from at least 1910 through 1930, working in a foundry as mechanic and foreman; he died Dec. 2, 1948 in Cincinnati, with records stating—accurately?—that he was aged "85 years 6 months 9 days" at death
* Mary Jane Yeazell: born Aug. 1866; married a Mr. Dowell c.1884 and had a daughter, Marie L. Dowell (born June 1894, married a Mr. Isanogle); mother and daughter lived with William Yeazell in 1900, then with widower John Snyder of Indianapolis (Mary Jane working as his housekeeper) in 1910; settled near Anderson in Union Township, Madison County IN c.1911, when Mary Jane married Stonewall J[ackson?] Hunter (c.1872-1930); lived in Chesterfield IN in 1925; she died May 4, 1952 and was buried at Bronnenberg Cemetery, Chesterfield IN
* David Warnock Yeazell: born Sep. 18, 1870; c.1893 married Bertha Dell Romine (born June 1876) and had three children: David William Yeazell (Sep. 12, 1893—Oct. 10, 1944), Sherman Orville Yeazell aka Orville S. Yeazell (Sep. 27, 1894 or 1895—May 3, 1949), and Mary M. Yeazell (born Sep. 1896, died by 1910?). Warnock settled in Cable, Wayne Township, Champaign County OH by 1900; married second wife Ida May McBride (born Jan. 4, 1884) in 1908 and had three more children: Alice E. Yeazell Wingfield (May 21, 1912—Oct. 9, 1998), Melvin E. Yeazell (1915—Feb. 25, 1973), and Florence Elizabeth Yeazell Russell (Nov. 29, 1917—Jan. 1, 1994). SEK's records indicate another three died as newborns: a daughter on May 20, 1910, and sons on June 22, 1911 and Feb. 28, 1914. Warnock worked as a farm laborer, elevator laborer, and schoolhouse janitor; was living in Urbana OH in 1956; died aged c.87 in 1957 and was buried at Urbana's Jenkins Chapel; Ida McBride Yeazell joined him there after dying aged 97 on Apr. 19, 1981
* Sherman Barber Yeazell: born Mar. 28, 1875; married first wife Catherine Shaffer on Feb. 20, 1899 in Johnson County IN; married second wife Lily/Lilly/Lillie [surname? born c.1885-86] c.1902 and had two children: Sherman T. Yeazell (May 21, 1903—May 29, 1995) and Helen L. Yeazell (Oct. 3, 1910—Dec. 23, 2005); settled in San Antonio TX by 1910 and worked as a surgical grinder; died Sep. 15, 1959 in Bexar County TX
According to William's 1925 obituary below, Louisann had two other children who "preceded her in death"; ~beaver/poston names these as John Yeazell and Susan Yeazell.
For years, SEK would believe that Louisann was the mother of three more children before dying Aug. 30, 1892 in Indianapolis and being interred on Sep. 2nd back at Champaign County OH's Union Chapel Cemetery. However, her record there (courtesy of ~union/chapel) reads "YEAZEL, Louisana, wife of W.A." with a death date of Aug. 30, 1882. Once we add Josephine Wikel to the Yeazell equation, this date is clearly accurate; and SEK has found confirmation in the Sep. 7, 1882 Urbana Citizen & Gazette: "Mrs. Louisa Yeazell wife of W.A. Yeazell, died Aug. 30th, aged 38 years." (William's 1925 obituary would give Louisann's deathdate as Aug. 27th.)
A few months later, the Dec. 14th Citizen & Gazette reported: "W.A. Yeazell and Miss Lydia I. Wickel [sic] were md Sunday [Dec. 10, 1882] by Rev Dr Pearne at the res of bride's parents on W Market St." With the revelation of this key vital statistic, the present author now believes that Samuel, Leah, and Josephine Wikel moved to Urbana not long after the June 4, 1880 census in Middletown. And given the quick turnaround between Louisann's death and Josephine's wedding, it's not unlikely that Louisann and Josephine became friends; most likely via the Methodist church, of which Thomas Hall Pearne DD was pastor from 1882 to 1885. In June 1884 he would marry Josephine's nephew Herbert Gustavus Smith to his first wife, Deborah Hedges; and after Debbie's untimely death H.G. would marry her friend Mila Burns Callison—perhaps following William Yeazell's example.
Josephine and William soon moved to Dayton, where their first child was born: Inez Violetta Yeazell on Oct. 30, 1883. SEK found the hitherto-forgotten Inez in the Champaign County Ohio Probate Records of Births 1878-1884 (published 2009 by Pat Stickley and Denise Kay Moore), which confirms her as the "daughter of W.A. and Lydia J." In 1900 the 16-year-old Inez was a servant in the Indianapolis household of iron moulder John W. Perham. On Dec. 20, 1900 she married Austin Harry Myers (born Oct. 4, 1880 in Indiana), an automobile machinist. In 1910 they lived in Indianapolis at 1043 Villa Avenue with four children: Delbert F. Myers (born c.1901-02), Bonnie B. Myers (born c.1903), Lavon M. Myers (born c.1905), and Clarabelle Myers Cook (c.1909—June 23, 2006); as well as Austin's brother Arlie Myers and widowed mother Clara Myers (born c.1859). A fifth child had died by 1910. In 1920 the Myers family were living at 1419 State Street, having added three more children: Thomas W. Myers (born c.1912-13), Albert Austin Myers (born c.1915, still living in 2006), and Hazel J. Myers (born c.1919). With them is Austin's father Thomas J. Myers (born c.1862), a flour mill machinist. By 1930 the family—now listed as "Meyers"—has shifted to 1023 St. Peter Street; Bonnie and Lavon are gone, but Delbert remains (as trucker for a wholesale grocer), as do Thomas (clerk for a wholesale paper company), Albert (laborer at a canning factory), and Clarabelle (stenographer at a canning factory); the latter's husband James Alton Cook (born c.1904) is also present, with a blank occupation; and Thomas J. Myers is now listed simply as a boarder. Austin Harry, Inez V., and father Thomas J. Myers are at the same address in 1940. Inez died aged c.67 in 1950 and was buried at Acton Cemetery in Acton, Marion County IN; Austin joined her there after dying on Sep. 7, 1970.
~a's directories for Dayton show "Yeazell Wm A, car inspector" living at 45 S. Terry in 1883, then 15 E. Springfield in 1884, and then 306 E. May in 1885. The latter shift may have been to accommodate Josephine's second child, Irene Lavinia Yeazell, who was born Feb. 12, 1885 (and of whom more in a moment).
William took his growing family to Indianapolis in time to appear in that city's 1886 directory, again found at ~a. There he and Otway each have an entry, William as a car inspector for the B&W Railway and Otway as a laborer for the same; both live at 57 Pierce, Otway as boarder. In 1887 he too is a car inspector, boarding with his father at "Decatur 1 w [i.e. one block west] of Washington." The more circumspect 1888 Indianapolis directory says only that William lived on Vermont and "Otto" on New York, the latter with boarder "Warren Yeazell"—his younger brother David Warnock? 1889-90's directory pinpoints William at 32 Marion Avenue and Otway at 1092 New York; while 1893's, the last available online, follows William to 1075 W. Vermont and Otway to 1074 W. New York.
Lydia Josephine Wikel Yeazell was alive in Apr. 1892 and attending her grandmother's 100th birthday party in Atlanta IL—but out of the picture by May 22, 1895, when William married his third wife. The SFA had suggested Irene was Josephine's only child, but evidence now shows she not only had Inez Violetta first, but then three further children (previously attributed to Louisann):
* Carl David Yeazell: born Aug. 19, 1887 in Indianapolis; moved with family c.1901-02 to Springfield IL, where he worked as a repairman; married Ruth H. Evilsizor (born Oct. 13, 1891, daughter of Joseph Wiley Evilsizor [1866-1934] and Anna Melvina Shaffer [1872-1949]) on Oct. 10, 1911 in St. Louis; they had no children. Carl served in World War I, living before and afterward in Staunton, Macoupin County IL (working in 1917 as an electrician for the Illinois traction system, and in 1920 as a car yards laborer); by 1930 he lived in Edwardsville IL (as a mechanical foreman for the Illinois Terminal Railroad); returning to Staunton by 1942. He died there June 6, 1970 and was buried at Valley View Cemetery, Edwardsville IL; wife Ruth followed on Nov. 21, 1970
* Pearl N. Yeazell: born Feb. 14, 1889 in Indianapolis; married house carpenter Carl F. Stritt (born June 19, 1884) on Nov. 25, 1915; had five children: Christine Josephine Stritt (born Feb. 15, 1917, became Sister Barbara Marie Stritt at St. Mary-of-the-Woods in Terre Haute IN, died Mar. 18, 2005), Anna L. Stritt (born c.1920), Mary E. Stritt (born Aug. 1922), Clara C. Stritt (born c.1927-28), and Helen C. Stritt (born Nov. 1929); Pearl was living in Indianapolis in 1952; died after 1956?
* Louisa W. Yeazell aka Louise Yeazell: born Mar. 1891; married a Mr. Meyer by 1925, when she lived in Clayton MO; was living in Springfield IL in 1952; may have died by 1956, as she was not included among sister LaVon's surviving siblings
These three children fit neatly into what we might call the Josephine Timeframe.
In 2012 LLBJ supplied some key puzzle-pieces to this jigsaw saga: including, from the Marion County IN Health Department, a copy of Lydia Josephine Wikel Yeazell's death certificate. This states "Lydia J. Yeazell" died in Indianapolis of eclampsia on Sep. 24, 1894, as certified by a Dr. McClellan. Most other demographic fields were "N/A"—except that her father had been born in Pennsylvania.
Thus Lydia Josephine died in childbirth, aged 43 or 44. But her sixth child survived: born on her mother's deathday, LaVon(ne) [Yeazell] would be adopted—evidently informally—by Harley A. Wilson (born c.1860), a stationary engineer, and Minnie Francis Wilson (born c.1865), who had married c.1882. The Wilsons had LaVon baptized on Nov. 11, 1894 at St. Anthony's Catholic Church by Father F. B. Dowd, as Alice LaVon Minnie Wilson. ("On the baptismal certificate it is written 'L.C. Yeazell and Ollie Yeazell' as the parents.") As "Lavon Wilson," she appears as the Wilsons's daughter in the 1900 and 1910 censuses, though both acknowledge Minnie had "0 children, 0 living." In 1910, aged 16, LaVon worked as a sorter in an iron factory. In 1913 she married Francis Elmer Dissler (born 1894) at St. Anthony's; "they divorced a few years later [c.1918] due to LaVon finding out about his infidelities." She returned to her adoptive parents and appears with them in the 1920 census as "Willhite, Minnie L.," marital status D, occupation (again) factory worker. In 1923 LaVon married John Russell Poston (Apr. 10, 1876—Aug. 10, 1943) and had three children: Minnie Selma Poston Gross (June 19, 1926—Jul. 11, 2009), Harley Russell Poston (Nov. 2, 1928—Mar. 19, 1989), and Alberta Mae Poston Beaver (Apr. 27, 1930—Sep. 19, 2011); the Postons lived in Gwynneville, Shelby County IN. LaVon would be mentioned as a sister in Mary Jane Yeazell Hunter's 1952 obituary; this puzzled the present author in 2009, since LaVon (adopted so soon after birth by the Wilsons) had not been included in SEK's database. LaVon herself died aged 62 on Oct. 11, 1956 and was buried at Hanover Cemetery in Gwynneville. Though excommunicated from the Catholic church for divorcing her first husband and then marrying a Protestant, LLBJ was told she was a devout Catholic/Christian, piano player, dressmaker, made her own soap in the fall of the year, and was able to keep her marriage together despite her husband [John Russell Poston]'s alcoholism... Also to note, she stayed in contact with her biological brothers and sisters."
On May 22, 1895, eight months after Lydia Josephine's death, William A. Yeazell married his third wife: Louisa J. Louder Sine (born 1856 in Indiana, daughter of Phineas Louder (born c.1829 in North Carolina) and Catharine Lynas (born c.1832) William Yeazell was Louisa J.'s second husband (confirmed by the 1910 census). Back in 1880 we find a Louisa J. (age 24, born in Indiana, father from North Carolina, mother from Indiana) married to Frank G. Sine (born c.1854-55) and living near Logansport in Washington Township, Cass County IN. Frank (aka Franklin/Francis) was the son of Jacob W. Sine (born c.1804 in Pennsylvania) and Delilah [surname? born c.1808-11 in Pennsylvania]. In 1880 Frank and Louisa had a four-year-old son, Charles J. Sine.
1900 finds William & Co. in Olney, Richland County IL, not far west of the Indiana border. Transcribed as the "Yeozell" household, the census shows:
* Yeazell, William A. (age 57) occupation railroad laborer
* Yeazell, Louisa J. (age 44) married 4 years, 5 children, 4 living
* Yeazell, Carl D. (age 12)
* Yeazell, Pearl N. (age 11)
* Yeazell, Louisa W. (age 9)
* Yeazell, Edith M. (age 3)
* Dowell, Mary J. (age 33) married 16 years, 1 child, 1 living
* Dowell, Marie [transcribed as "Mane"] L. (age 5)
If Charles Sine had died by 1900—and if Frank Sine had sired Carl, Pearl, and Louisa before himself dying—and if William Yeazell had then adopted Louisa's three fatherless children in 1895—all would fit neatly into what we might call the Louisa J. Timeframe. But since Carl/Pearl/Louise show Ohio as their mother's birthplace in the 1900 census, it would seem the 1900 census takers simply overlooked that Ohio entry, and presumed Louisa J. to be Carl/Pearl/Louise's birth mother.
Edith Murl Yeazell, daughter of William and Louisa J., was born Sep. 7, 1897 in Indiana; she married William Gillespie [Sr.] on Sep. 17, 1912. They lived in Indianapolis and had three children: Glenn F. Gillespie (May 24, 1916—May 23, 2000), William S. Gillespie (born c.1922), and Essie M. Gillespie (born c.1925). William [Sr.] died c.1928; in 1930 the widowed Edith lived with her children and a roomer. In 1933, according to ~beaver/poston, Edith married William Thomas Dooley (1879-1952) and had a son, Lowell K. Dooley (born c.1936); the 1940 census shows them living with William's children Sherman G. Dooley (born c.1922) and Ella Maude Dooley (born c.1925), Edith's son Glenn Gillespie, and Glenn's wife Berta Mae Gillespie (born c.1918). William Dooley died in 1952 and was buried at Fairview Cemetery in North Salem, Hendricks County IN. Edith then married Carl Gray by 1956; she died aged 91 on Feb. 10, 1989.
SEK found a Katie Yeazell in records of the Marion County Board of Health, with no indication of parentage; born c.May 1899, she died in Indianapolis on Apr. 2, 1900 at the age of 11 months, and fits into the Louisa J. Timeframe.
In 1910 William & Co. were recorded as the "Yeozill" household of Springfield IL:
* Yeozill, William A. (age 67) occupation "helper," on third marriage
* Yeozill, Louisa (age 55) occupation housewife, on second marriage, 6 children, 3[?] living
* Yeozill, Edith (age 13)
* Yeozill, Hope (age 9)
* Yeozill, Carl (age 22) occupation repairman
* Yeozill, Pearl (age 21) occupation dressmaker
* Yeozill, Louise (age 19) occupation cigar factory
Notice that William and Louisa's two daughters are listed before the Carl/Pearl/Louise trio. Does this signify their step-status, as William's (if not Louisa J.'s) children by a previous marriage? The household's youngest member, Hope Ivana Yeazell, was born 1901 in Illinois; her name might possibly reflect a paternal wish that she be his final child. By 1920 Hope was the only one still at home with William and Louisa, living by then at 568 Lynn St. back in Indianapolis. William (age 77) worked as a "helper, machinist" while Hope (age 18) was an "operator, machine." Circa 1923, Hope married Charles Edward Young (1882-1967), a bank watchman in 1930 and tavern janitor in 1940. He and Hope had at least five children: Donald Young (born c.May 1924), Harold Young (born c.Oct.1925), Paul Young (born c.1931), Ruth Young (born c.1934), and Martha Young (born c.1936). Hope's widowed mother Louise lived with them in 1930; she died that same year and was buried at Indianapolis's Floral Park Cemetery. findagrave.com shows Hope and Charles Young buried there also, but lacks a death date for Hope (it may have been between 1952 and 1956, since she was not included among sister LaVon's surviving siblings).
As for the Yeazell paterfamilias, LLBJ has provided an unsourced obituary (and handy life recap):
William Andrew, son of David and Ester [sic] Yeazell, was born Sept. 24, 1842. Departed this life May 22, 1925, aged 82 yrs., 7 months and 28 days.
Mr. Yeazell was united in married to Louisann Yocom May 26th, 1863. To this union there were six children born, four of whom still survive, as follows[:]
Mr. Otway Yeazell of Cincinnati Ohio, Mrs. Mary J. Hunter of Chesterfield Indiana, Mr. David W. Yeazell of Cable Ohio, and Mr. Sherman B. Yeazell of San Antonio Texas.
Louisann, the mother of these children, departed this life August 27, 1882. Leaving behind the husband and four children, two having preceded her in death.
On Dec. 10, 1883 [corrected to 1882], Mr. Yeazell was married to Lydia J. Wikel. To this union there were six children born, all of whom survive[:]
Mrs. Ines [sic] Myers of Indianapolis Ind., Mrs. Irene Furrow of St. Paris Ohio, Mr. Carl Yeazell of Staunton Illinois, Mrs. Pearl Stritt of Indianapolis Ind., Mrs. Louisa Meyer of Clayton Mo., and Mrs. Lavom [sic] Pastom of Guynville [sic], Ind. This mother passed away in Sept. 1894, leaving the husband with a large family of small children.
On May 22, 1895, Mr. Yeazell was united in marriage to Louisa J. Sine. To this union there were two children born[:] Mrs. Edith Gillespie and Mrs. Charles Young, both of Indianapolis Ind. Those whom are left to moan their loss are the widow, twelve children, twenty-seven grandchildren and eleven great-grandchildren, besides a host of friends in Ohio, Indiana and Illinois.

Dearest of Fathers, thou hast left us,
And our loss we deeply feel;
But it's God that has bereft us—
He can all our sorrows heal.

Yet again we hope to meet thee
When the day of life is fled:
When in Heaven in joy to greet thee,
Where no farewell tear is shed.

Peaceful in thy silent slumbers,
Peaceful is thy grave so low,
Thou no more will join our number,
Thou no more our sorrows know.

On the borderland we left you,
Soon to meet and part no more.
With this parting hymn, we take our leave from William Andrew Yeazell. His daughter Irene had already done so—at least geographically. In the 1900 census, 15-year-old Irene is living in Urbana, Champaign County OH with her aunt Ellen Wikel Smith and cousin Leanna. According to the SFA, Irene would go on to be "adopted (not legally)" by Carrie Smith, wife of Josephine's cousin M.L. Smith; as is borne out by Urbana's 1910 census, which shows 25-year-old "Irene L. Zeazell" [sic] living with M.L., Carrie, and their three young children. Irene has taken up her grandfather Samuel Wikel's trade and is working a cigarmaker.
The plucky-orphan "Irene of Green Gables" picture given by the SFA is rather diluted by the revelation that she had ELEVEN living siblings—full, half, or step—plus a father who lived till she was 40. Did Irene have a close loving relationship with them, or were they estranged? Had she moved to Urbana to escape from her family, or to console her Aunt Ellen who'd lost one son in 1896 and her husband Alonzo in 1899? It's not impossible that the Yeazell household broke up upon Lydia Josephine's 1894 death, with her children sent to live with family or friends until William A. married Louisa J. in 1895—and even then, the two oldest girls may not have returned. Irene's older sister Inez was also out of the paternal house in 1900, working as a servant elsewhere in Indianapolis; had she and Irene experienced difficulties with their stepmother? Or was there simply not enough room at the Yeazells's new house in Olney IL?
Answers to all these questions have been taken to several graves.
~champaign/ind2899 says Irene Lavinia Yeazell was the second wife of Charles E. Furrow; they married in Kentucky on Feb. 11, 1916. ~yeazell/irene differers slightly on the wedding date (Feb. 12th—Irene's 31st birthday) and the wedding place (Urbana OH)—but SEK found mention in the St. Paris (OH) News Dispatch for Feb. 17, 1916: "On last Friday, Mr. Charles Furrow of this place and Miss Irene Yeazell of Urbana, went to Newport KY and were married." Suggesting an elopement, perhaps followed by a formal ceremony back in Urbana on the morrow.
~yeazell/irene tells us more about the groom: Charles Edward Furrow was born Sep. 8, 1891 in Champaign County OH, the son of Levi Furrow (born Dec. 1865) and Margaret Bell "Maggie" Miller (born Dec. 1868). Charles's first wife was named Viola [surname? vitals?] and he had a farm in Champaign County's Jackson Township, a few miles west of Urbana. (St. Paris is on the border between Jackson and Johnson Township to the north.) Charles and Irene had a daughter, Ruth J. Furrow (born Sep. 30, 1918) who in 1984 would still be living near Urbana; there she often saw her cousin Gertrude Smith, Carrie and M.L.'s daughter.
Ruth Furrow died Jul. 16, 1990: as per the Social Security Death Index. Her mother Irene died Sep. 2, 1936 in Jackson Township and was buried at Honey Creek Baptist Church Cemetery (as per ~yeazell/irene); Charles died Nov. 2, 1952 in Casstown, Miami County OH, and joined Irene in Honey Creek. But nothing certain is known regarding Lydia Josephine Wikel Yeazell's resting place. There are two Yeazell entries in the index of Indianapolis's Mount Jackson Cemetery, where Josephine's brother Henry A. Wikel and niece/namesake Josephine Wikel Symmonds are buried. Neither Yeazell entry displays a first name; one is dated Mar. 28, 1900 and the other Oct. 21, 1894. The latter date would fit, and make a fitting end to, the Josephine Timeframe.

Samuel A. Wikel [Jr.], the family's youngest child, was born in Middletown c.1853. Too young to fight in the Civil War, he moved to Fort Wayne IN by 1875, when he appears in the city directory (available at ~fortwayne) as a clerk in the freight department of the Fort Wayne Muncie & Cincinnati (FWM&C) Railroad, boarding at the Robinson House Hotel. Elsewhere in the same directory we find another clerk, Henry Bittenbender, residing at 187 W. Washington. His surname—a variation on "barrel-binder" or cooper—is never spelled the same way twice in federal censuses. In 1870 it is "Battenbender": there Henry (age 53) is a laborer from Darmstadt, his wife Caroline [Bowers] (age 42) hails from Strasbourg in Alsace, and they have four New York-born children: Louisa (age 20), Charles (age 15), Emily A. (age 13), and Adaline (age 10). By 1880 the "Bottenbender" household in Fort Wayne has diminished to Henry (age 63), a railroad messenger from Hessen-Darmstadt; "Carlina" (age 52) from France; and "Edeline" (age 19). 1900 finds the widowed Caroline "Bittenbinder" with her daughter Emily in Grand Rapids, while son Charles H. "Botenbender" is a mail clerk in Elyria OH. By 1910 Charles will have morphed into "Captain Buttenbender" (of whom see more below).
Samuel A. Wikel married Emily A. Bittenbender c.1880; neither has been found in that year's census, but Emily was no longer living with her parents. We next find Samuel in Fort Wayne's 1883 directory, as "Wikel Samuel A asst general freight agent FW, C&L Ry, res 287 W Berry." This matches entries in The Official Railway List for 1883 and 1884, and The American Engineering Register for 1885, which all name S.A. Wikel as General Freight Agent for the Fort Wayne, Cincinnati & Louisville line. Poor's Directory of Railway Officials for 1887 amends this rank to "Ast G Frgt A," but 1890's edition loses the "Ast." The 1889 Fort Wayne directory also calls Samuel the FWC&L's General Freight Agent—and in larger, bolder type than standard entries.
The position of general (or even assistant general) freight agent made S.A. well-to-do, and his wife Emily an habitué of the society pages. As early as Jul. 29, 1882 the Fort Wayne Daily Gazette reported that "Mrs. S.A. Wikel left yesterday for New York." On Jul. 24, 1890 the Fort Wayne Sentinel called the Wikel home on West Berry St. a "handsome residence property... Mr. Wikel regretted parting with the place, but owing to the removal of the Muncie general offices to Indianapolis, his duties of assistant general freight agent compelled him to make his headquarters there. He will be joined at the capital, one week from to-day, by his family and also by his wife's mother and sister, Mrs. Bittenbender and daughter."
Although the Fort Wayne Muncie & Cincinnati became the Fort Wayne Cincinnati & Louisville c.1882, it was still referred to as "the Muncie Route" as late as 1890. On June 20th of that year, the Sentinel announced that the Muncie's headquarters would be moving from Fort Wayne to Indianapolis on July 1st. "It will be seen that Mr. S.A. Wikel has been retained as general officer. Mr. Wikel is regarded as a very capable and valuable man for the position he has so acceptably filled for many years." The Sentinel followed up this story on Sep. 12th:
WIKEL WILL WIN. The Popular "Muncie" Assistant Freight Agent Goes Higher. — When the general freight offices of the Lake Erie and Western (Muncie) road were removed from this city to Indianapolis, S.A. Wikel, the assistant general freight agent, accompanied them... Mr. Wikel was tendered a handsome inducement from the management of the Louisville, St. Louis and Texas railroad, operated by the McCrackens, of which road it was desired to make him general freight agent. This compliment came to him unsolicited, therefore, unexpectedly, but after due consideration he accepted the offer and will assume his new charge on the 16th inst, having his headquarters at Louisville. Mr. Wikel is winning fame early in his railroad career, but it is a deserved recognition. He will move his family to Louisville soon.
A sobering spin on this account (and its aftermath) appeared in the June 17, 1901 Sentinel:
WIKEL MAKES A CHANGE. S.A. Wikel has taken a position in the freight department of the Lake Erie and Western road[,] and Indianapolis will soon become his home and official records [sic]. Mr. Wikel is one of the best known freight men in this part of the country. During the administration of Supt. W.W. Worthington on the Fort Wayne, Cincinnati and Louisville road, Mr. Wikel was his general freight agent and during his term in that office he resided in this city. When the late Senator [Calvin S.] Brice bought the "Muncie" and made it a part of the Lake Erie and Western system[,] Mr. Wikel was let out with others. He then took the general freight agency of the Louisville, St. Louis and Texas road, owned and operated by the McCrackens. Four or five years ago that property passed to other hands and Mr. Wikel was again let out. Mr. Leavenworth then called him to the Grand Rapids and Indiana with the title of freight claims agent, which position he held until last week. A letter from Indianapolis states that Mr. Wikel is about to move his family there. They have been living in Grand Rapids Mich. for four years.
The following household (transcribed as "Mikel") was recorded in Grand Rapids's 1900 census:
* Wikel, Samuel (age 46: born Dec. 1853 in Ohio) occupation railroad clerk
* Wikel, Emily A. (age 35: born "Sep. 1864" in New York) parents from Germany, married 20 years, 3 children, 2 living
* Wikel, Howard H. (age 17: born Mar. 1883 in Indiana) attending school
* Wikel, Louise (age 10: born Mar. 1890 in Indiana) attending school
* Bittenbinder, Caroline (age 72: born Sep. 1827 in Germany, emigrated 1840) widowed mother-in-law, 5 children, 3 living
Had Emily actually been born in Sep. 1864, she would have married at age 15. A future passport reveals the more likely birthdate of Sep. 6, 1856. She and S.A. had two children in Fort Wayne: Howard Henry Wikel (born Mar. 1, 1883) and Louise Wikel (born Mar. 12, 1890); a third child died young. After moving to Indianapolis in 1901, the Wikels acquired a summer cottage in Bay View MI; each year the Indianapolis Star would scrupulously inform society when Mrs. S.A. Wikel and daughter/family left for the cottage in July, and returned from it to town in September. 1910's rejuvenating census shows S.A. aged 52 (thus born c.1858 instead of c.1853) and Emily aged 50 (born c.1860: halfway back to her actual[?] birthdate). In June 1913, Louise Wikel graduated from the John Herron Art Instute's department of applied design.
Samuel A. Wikel [Jr.] died on Oct. 13, 1915, and that day's Fort Wayne Daily News published this obituary:
F.A. [sic] Wikel, formerly a railroad man of Fort Wayne and well known in this city, died at his home in Indianapolis Wednesday [i.e. this] morning about 4 o'clock at the age of 62 years. Death was due to a stroke of paralysis, which he suffered a few days ago. One year ago he was stricken with a[nother] stroke of paralysis, and had been in ill health since that time. The deceased lived in Fort Wayne twenty-five years ago and while here was ticket agent and assistant freight agent at the L.E.&.W. While in Indianapolis he was connected with some of the leading railroads in an official capacity. While residing here he was a member of the Trinity English Lutheran church. Besides the widow, one son, Howard, principal of the high school at Lagrange, survives. The body will arrive here Friday at 11 o'clock over the L.E.&W. and will be taken directly to Lindenwood [Cemetery]. Rev. S. Wagenhals will officiate.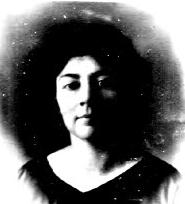 No mention of daughter Louise; but in 1920 she was a secretary at the YWCA, and lived with the widowed "Mrs. Wikel" (no first name; now aged 63) as roomers in an Indianapolis boarding house. This did not exile Emily from the Star's society page; on Nov. 17, 1920 it mentioned her depature to spend the winter in Los Angeles.
Emily and Louise were issued passports in Apr. 1923, finally establishing Emily's true(?) age, and providing her photograph to the right. They embarked in June "for travel and recreation" to Great Britain, Holland, Belgium, France, Switzerland, Italy, Spain, and Germany; returning in July 1924. The 1930 census finds them still in Indianapolis, with Emily (transcribed "Emelyn") reverting to an age of 65 rather than 71, and Louise working as a saleslady in a music shop. In Sep. 1935 Louise again returned from a trip overseas; this time accompanied by her brother Howard, with whom she was now sharing a home in West Lafayette IN. From which we may deduce that their mother Emily had recently died—perhaps leaving her children a legacy enabling them to buy this house, just off the campus of Purdue.

● Class Poet: Howard Henry
On Nov. 20, 1901 in Indianapolis, Howard Henry Wikel wrote an exclamatory letter to an unspecified relative, probably Irene Yeazell in Urbana:
My dear Cousin: I did really think that you had forgotten me, but I was pleased to find myself mistaken. Aunt Mary and Pearl [McChesney] were here but a few days, but I think they enjoyed themselves. You know it is hard to entertain anyone, when we are so strange. If they had visited us in Grand Rapids it would have been more pleasant, for we have many friends there. They probably found it quite hot and close in the Chicago hotbox. I think I would rather live in New York than in Chicago. We were pleased to hear that you had more fruit than you could take care of, for although it makes work, it is better to have too much than too little. You must hurry off to school but I suppose you have by this time. I am going to graduate in June. I am taking French now. It is difficult to pronounce. I have finished German and am quite a Dutchman as far as talk goes, although every one thinks I am a "Jew" with my big nose and six feet in height. I am afraid that I would go home very much ashamed of myself, if I were to visit you at Christmas, for from what you write, you could beat me working any day. But I haven't any time to do anything else but study it seems like. I study from eight in the morning until ten at night, every day except Saturday and Sunday. We had a Carnival here last month; lots of noise; lots of fun; and lots of trouble. We also had a Flower Show. This is a great place for fun. How are Aunt Ellen and Leanna; you never say a word about them, you naughty girl! We are all well and like our new home very much. We have made some nice friends. Well I can think of nothing more to say. Our number is 173 E. 19th Street. Never forget it again!!!!! or I will scold you!!!!! Remember us to all. Give our love to all. From your cousin Howard Wikel Best Wishes.
[P.S.] We spent one week from home when we went to Buffalo. We were there when McKinley was buried. H.W.
Howard Henry was the only one of Samuel [Sr.] and Leah's nine grandsons to bear the Wikel surname. After graduating from high school in 1902, his assiduous studying sped him through the University of Indiana. Majoring in European history, he earned his Bachelor of Arts degree in 1905 and his master's a year later, with a thesis on "Causes of the Franco-German War of 1870." In the meantime Howard presided over the college History Club and Goethe Gesellschaft, and was Senior Class Poet. The 1905 Arbutus yearbook associates him with a quote from 17th Century satirist John Oldham: "Of all his gains by verse, he could not save /Enough to purchase flannel and a grave."
Starting in 1906, Howard taught history, English, and German at LaGrange High School in LaGrange IN (about 35 miles northwest of Fort Wayne), serving as its principal for nine years and superintendent for one. During this time he boarded with Mr. and Mrs. Lycergus Livergood, who were referred to as Howard's "foster parents" during a 1919 visit.
In Jan. 1916, Superintendent Wikel escorted a group of LaGrange students to Fort Wayne where they "witnessed 'The Birth of a Nation.'" That summer LaGrange honored the departing Howard, as reported in the July 11th Fort Wayne Journal-Gazette:
Howard H. Wikel, former superintendent of the Lagrange schools, who is spending the summer at Bay View, Mich., is expected here [LaGrange] Friday for a short visit and arrangements have been made to tender him a reception on Friday evening, all of his former students and the pupils of the high school for the past year being invited. Mr. Wikel... was very popular among the students. On Saturday evening the members of the Lutheran church and Sunday school will tender him a reception at the church, he having been one of the leaders in the work of this church during his stay here.
The July 17th Fort Wayne Daily News goes on:
The members and friends of the Lagrange schools gave a very suggestive [sic] reception of high appreciation Friday evening to Professor H.H. Wikel, who retires from the schools as superintendent, after having been connected with the faculty for several years. The function was held at the K[nights] of P[ythias] hall, and the feasting and evening program was a mid-summer occasion long to be remembered. Mr. Wikel is held in high esteem by the people of this community.
Howard joined the faculty of Purdue University, teaching German in 1917 (probably not that year's most popular subject) and becoming Assistant Professor of Modern Languages by 1922. He remained at Purdue for the rest of his teaching career, serving as Professor of European History in 1944. That year Frederick J. Pohl acknowledged on page ix of Amerigo Vespucci: Pilot Major (Columbia University Press) that "I am grateful to Professor Howard Wikel, of Purdue University, for assistance in the field of medieval history." Not surprisingly, Howard made extensive travels abroad: to Montreal and Scotland in 1913, France each year from 1924 through 1926, England in 1927, and France again in 1935—this time with his sister Louise.
As late as 1930, Howard was a lodger in various West Lafayette homes. By 1935 he and Louise were sharing a place of their own at 735 Northridge Drive, where they remained for at least ten years. Howard died in St. Petersburg FL on June 27, 1976; half of his estate was left to Indiana University for the establishment of a Howard H. Wikel Student Loan Fund, subsequent to Louise's death. That took place on Nov. 20, 1988 in Morganton NC, though Louise too was living in St. Petersburg. On June 29, 1989 the University of Indiana received "a final distribution in the amount of $2,631.06" to be used for Howard's memorial fund: more than enough gains by verse (or classroom lectures) to purchase flannel.
Howard Henry Wikel was 93 years old when he died, and his sister Louise lived to the age of 98—indicating that the genes of Andrew Snyder had been passed down unto the fourth generation.

The present author assumed for many years (rightly, as it turned out) that the Middletown in which Samuel and Leah Wikel lived, where their daughter Ellen was born and married, was the city in Butler County midway between Cincinnati and Dayton. Hence its name, bestowed when Middletown was first platted in 1802. The Miami and Erie Canal (begun in 1825) brought shipping and industry to Middletown; it was incorporated as a city in 1833.
Lying in the heart of the fertile Miami Valley, Middletown was a natural shipping center. Farmers throughout the valley drove their hogs to the busy canal port for shipment to the pork markets of Cincinnati... Hogs, flour, whisky, and passengers were hauled over the waterway with a casual democracy during this lush period of Middletown's growth when a thousand people were passing through the community every week...±
However: there is another Middletown, Ohio, a mile or two southeast of Mingo in Wayne Township, Champaign County. The present author, squinting at Rand McNally to gauge the distance from Mingo to Urbana, stumbled across this village and fell prey to doubt. Could this have been the Wikels's Middletown? Would that not explain why Alonzo and Ellen Wikel Smith moved their family to Mingo in 1878 (as covered in Chapter S-2)? Although this other Middletown would dwindle to twenty inhabitants by 2002, back in 1860 it was a thriving hamlet of 126—a full 8% of Wayne Township's 1,570 total population. (Figures derived from ~history/champpop.)
But no. Even if all the info above were insufficient, any lingering doubt would be allayed by finding "Weikel Leah 1895" and "Weikel Samuel 1898" interred together in Square 5, Lot 19 of Middletown Historic Pioneer Cemetery, First Avenue and Richmond Street, Middletown, Butler County OH. (Burial location courtesy of ~middletown/cemetery.) In the same resting place can be found David and Mary Elizabeth McChesney.


Notes
† The six children of George Louis McChesney and Laura Elizabeth Thompson were: Zella Mae McChesney (born Nov. 18, 1890, married Ralph Butterfield [born 1888] in 1908, had eight children, died Dec. 27, 1965 in Torrence CA); Helen Florence McChesney (born Jul. 22, 1899, married Raymond Lloyd [1893-1957] in 1926, had two children, died Nov. 6, 1963); Laura Elizabeth McChesney (born Aug. 22, 1904, married Robert Rayford Jackson [born 1906]); Margaret Ellen McChesney (born Nov. 15, 1906, married George Ellsworth Fouch); George Augustus McChesney (born Aug. 20, 1908, married Thelma Flanders, worked as a stenciler at a steel mill, died Mar. 21, 2005); and Mary Louise McChesney (born when?, married first Jennings Franklin Mills and second Edward David Taylor, died when?): as per ~butterfield and ~uppfamily/index.
‡ The five children of Mary Elizabeth "Mamie" McChesney and Andrew Jackson "Jack" Brookover [Sr.] were: Robert Shelton Brookover (born Aug. 17, 1900 in Brown County OH, died Apr. 1981 in Jenkintown PA); Andrew Jackson Brookover [Jr.] (born Sep. 28, 1901 in Illinois, married first Elma Ada Hughes and second Winnifred [surname?], died Aug. 9, 1963 in Andover MA); John Shartle Brookover (born Aug. 24, 1904 in New York, married Elizabeth Blake, died June 1977 in Vincenton NJ); Stanley David Brookover (born 1906 in Virginia, died 1916); and Thomas Edward Brookover (born Oct. 1915 in Pennsylvania, married Esther Ann Zittie, died 2001 in Downingtown PA): as per ~brookover and ~uppfamily/index.
§ The five children of Pearl Vance McChesney and Howard Leach Knepshield were: Howard Jacob Knepshield (married Alma Mattson); Mary Elizabeth Knepshield (married Frederick Charles Leopold); Ruth Louise Knepshield; Harold David Knepshield (married Coralie Seelbrede); and Charles McChesney Knepshield (married Mary Lee Talbert): as per ~uppfamily/index. Whether Howard Jacob Knepshield played for the Ohio State Buckeyes in the 1930s has not been confirmed.
± The Ohio Guide of the American Guide Series, New York: Oxford University Press, 1940, p. 580.

● Greene County OH's 1840 census includes a George Upp in Miami Township (north of Xenia) whose household consisted of five free white females: one aged 40-to-50, two aged 15-to-20, two aged 5-to-10—but zero males. Meaning it's unlikely he was the father of our Leah Upp; though perhaps he was of the not-yet-born Leah who would marry Jacob L. Felty.
● Henry A. Wikel's Oct. 1842 birthdate was taken from ~schliesserhicks and is borne out by his Civil War records, although the 1900 census shows "Aug. 1844."
● Henry's Civil War service was pieced together from the SFA, ~butler/vets (where he appears twice: as "Henry A." and "Henry A. NMN"), 1920-21 records at the National Home for Disabled Volunteer Soldiers (which only documents his first enlistment), and ~burke/5thovc (which documents the second one). The SFA alone notes his capture and parole.
● The 26th Ohio Volunteer Infantry was organized at Camp Chase in Columbus OH from June 8 to July 24, 1861. Under Col. Edward P. Fyffe, the regiment was ordered to the Kanawha Valley in western Virginia (soon to be West Virginia). Gauley Bridge at the head of the Kanawha River was a strategic location: two turnpikes (the "James River and Kanawha" and "Clarksburg, Weston and Gauley") joined here, and the area was also a prime source for salt, necessary for the preservation of meat. In July 1861 Union troops took the Baltimore & Ohio Railroad to Clarksburg, detrained there, and marched into the Kanawha Valley. To slow their advance, the Confederates under ex-Governor Henry A. Wise burned the bridge over the Gauley River. Robert E. Lee arrived in September to take command of the Southern forces: his first field assignment as a Confederate general. Lee's headquarters was on Sewell Mountain, along the James River and Kanawha Turnpike; during his time in Fayette County, Lee acquired his famous horse Traveler. A Confederate attack on Gauley Bridge was mounted in November by another ex-Governor, John B. Floyd, who was defeated and driven out of Fayette County. The 26th OVI served in "the District of the Kanawha" till Jan. 1862, when it transferred to Kentucky. (As per ~26th, ~fayette, ~charleston, and ~piatt.)
● Following Henry Wikel's departure from the Kanawha Valley in Jan. 1862 but prior to his father Samuel's arrival there in 1864, military operations resumed at the Battle of Fayetteville in Sep. 1862. This time the Federal forces were driven out, and the Confederates (to divert attention from Lee's invasion of Maryland, which ended at the Battle of Antietam) pursued them with continual skirmishes. The Union troops regrouped across the Kanawha at Camp Piatt and met the Confederates at Charleston, the future West Virginia capital. Although the Confederates were again victorious, they had to abandon Charleston six weeks later to occupation by Union forces. In 1863 two future Presidents, Col. Rutherford Hayes and young Lt. William McKinley, were stationed at Camp Piatt with the 23rd Ohio Infantry, guarding the Kanawha Valley and patrolling western Virginia. (As per ~fayette, ~charleston, and ~piatt.)
● In 1862 the 26th OVI occupied Nashville from Feb. 25 to Mar. 18; fought in the bloody Battle of Shiloh, Apr. 6-7; took part in the siege of Corinth MS in May, and then General Don Carlos Buell's campaign in north Alabama and middle Tennessee during the summer.
● When Henry Wikel re-enlisted in Sep. 1862, there was fear that the Confederates under Braxton Bragg and Edmund Kirby Smith were going to invade Cincinnati (defended by Union General Lew Wallace, later the author of Ben-Hur). "With very few troops in the immediate vicinity, men were rushed from wherever they could be spared; inexperienced regiments at Camp Dennison not yet armed, a brigade from as far away as Corinth, Tennessee, independent companies and battalions from all over Ohio, Kentucky and Indiana, and thousands of volunteers from the city and surrounding area that armed and organized themselves into companies that collectively became known as the Squirrel Hunters. Wallace placed the city under martial law, which included closing all commercial business and the drafting of able-bodied men" (~burke/5thovc). But Kirby Smith decided not to attack Cincinnati until Bragg could take Louisville.
● The 5th Ohio Volunteer Cavalry's 3rd Battalion (including Company I, from Butler and Hamilton Counties) fought in the Second Battle of Corinth MS, Oct. 3-4, 1862. Company I served as escort for Brigadier General Thomas Davies. The 3rd Battalion then guarded the Mobile & Ohio Railroad at Glendale from Oct. 15 to Nov. 8, 1862. "In early December it was made part of an expedition sent up the Tennessee River under the command of Colonel Thomas C. Sweeney in pursuit of Confederate cavalry reported to be operating along the Memphis and Charleston line and to take any hogsheads of cotton it might find" (~burke/5thovc).
● According to the SFA, Henry Wikel was captured on Dec. 17, 1862 in Lexington. This runs parallel to another excerpt from ~burke/5thovc: "On the 18th of December a disaster of major proportions befell the Fifth Ohio near Lexington, Tennessee. General Nathan Bedford Forrest was reported to be moving toward the Tennessee River near Jackson... The Forty Third and Sixty Third Illinois Infantry Regiments, under Colonel Adolph Engelmann, were ordered out to intercept him. Engelmann additionally was ordered to 'take command of all the United States Cavalry that [he] might find.' In the early morning hours of the 18th about three and a half miles outside of Jackson, Engelmann came across 'parts of the Eleventh Illinois, Fifth Ohio, and one company of the Second West Tennessee' cavalry regiments under the command of Colonel Robert Ingersoll. The Fifth Ohio contingent consisted of 200 troops that 'were raw recruits, never having been under fire and never drilled,' noted Colonel Ingersoll. They were troops recently recruited in Southwestern Ohio to fill out the declining rolls of the Fifth Cavalry. These troops were placed under the command of Engelmann who proceeded to send out his newly acquired cavalry in the search for Forrest. Shortly after dawn a battalion of the Eleventh Illinois Cavalry made contact with enemy pickets whom they succeeded in driving back to the main body... Ingersoll, commanding the cavalry, reported his men 'fell slowly back, fighting all the way,' in what he described as 'fine order, and holding at bay a much superior force.' After repositioning his troops Colonel Ingersoll realized 'the enemy was pouring in on all directions,' and made two desperate charges to prevent a sizable portion of his command from being flanked by an enemy in regimental strength on both his right and left. He reported, 'Twice the enemy was repulsed, but coming in overpowering numbers the third attempt proved successful'... 124 of Ingersoll's command had been captured including 51 troopers of the Fifth Ohio... Major [Charles S.] Hayes angrily wrote, 'This adds another to the long list of disasters brought by officers in high places who have nothing to recommend them but influential friends.' He was none too happy with Ingersoll who in his words 'led them headlong into a nest of the enemy and surrendered himself and left the boys to their fate.'" (~burke/5thovc pp. 83-84).
● Information on the Tolberts and Symmondses was compiled from ~schliesserhicks and the Genealogy of the Jean Pierre Le Sourd Family, a blurry old typescript (where Henry and Josephine are surnamed "Winkle" and Josephine's husband "Symonds") found at ~a.
● Martha Hicks of ~schliesserhicks confirmed that Julius Caesar Tolbert died on Dec. 27, 1893; his obituary was dated Dec. 29th.
● Lillie Tolbert, like her parents and sister Harriet, can't be found in the 1870 census; but 1880's locates her ("Lilly," age 22) as a servant with widow Paulina Rippey in Barry Township, Pike County IL. Although she is shown as Illinois-born, both her parents are said to come from Kentucky.
● Gladys Symmonds's wedding date and her husband's first name were obtained from the Indiana Marriage Records and a mention in July 3, 1913's Indianapolis Star; both via ~a.
● After Josephine's death, Edward Symmonds married Anna [surname? born c.1894] with whom he is living in the 1930 census.
● Info on the McChesneys and Knepshields was compiled from ~uppfamily/index, ~crislipps, ~butterfield, ~warren/mcchesney, ~middletown/cempics, and ~butler/knepshield. ~crislipps gets Mary Elizabeth's mother's name right, but calls her father Daniel Wikel.
● A McChesney family Bible is described, with scanned lists of births and marriages and deaths, at ~bible/mcchesney. One entry reads:"David McChesney and Mary Wikel was [sic] married Oct Nov 12 Nov [sic] 1867."
● In 1919's ~butler/knepshield, David McChesney "died in 1897, having always been troubled with the after-effects of his experiences as a soldier during the Civil War."
● Patrolman George L. McChesney's career was found in ~butler/police; tribute is paid to him at ~officerdown/mcc (which includes a small photo). George confronted a man suspected of shooting out streetlights on Middletown's Heffner Avenue, where the suspect shot him with a gun hidden in his coat.
● 17-year-old Mamie McChesney's June 11, 1896 letter to "Cousin Sam" Smith starts out bluntly: "We nearly sweat ourselves away last week it was so hot," before turning rather coquettish: "You were too late with your invitation. A fellow asked one Sunday night to go with him. But you can go along by the side of us if you behave... We had our faces taken Decoration Day. The proofs couldn't be better, I guess we will get them Saturday. You are counted in for one of theirs but I don't know whether I'll give you one of mine or not... I'm sorry I can't come up and go to that concert with you but it is an impossibility. I'm going to wait until you get a horse before I come up." Yet it was not to be: Sam Smith died of typhoid fever less than four months later.
● Pearl Vance McChesney Knepshield's obituary appeared in the Mar. 1, 1950 Middletown Journal (available at ~a). "She was an active member of the First Methodist Church, belonging to the Temple Choir and the Philathea Class. She was also a former organist at the church. She was a member of the Pythian Sisters, the Viola Rebekah Lodge, the Daughters of America and the Daughters of Union War Veterans."
THE OTHER NOMINEES FOR THE ROLE OF JOSEPHINE WIKEL'S HUSBAND AND IRENE YEAZELL'S FATHER
● William Andrew Yeazell was the present author's original Nominee #2 for this role, being the only one with a confirmed Indianapolis element. But his children's birthdates, and the Carl/Pearl/Louisa trio displaying Lucy Ann as mother, with "second" wife Louisa J. not being a misinterpretation of Lydia J., seemed to prevent any chance of Josephine having been his wife. So William Andrew got demoted to Nominee #4 shortly before SEK proved his case.
● Until Nov. 2009, SEK's ~yeazell/irene awarded the role to Nominee #1: Walter G. Yeazell (born Aug. 1866 in Clark County OH: son of John A. Yeazell and Mary Ann Baird). This was based on the Irene's 1936 death certificate, which stated her father was "W.G. Yeazell," birthplace Ohio; but the present author expressed doubts about this choice. First, it would have made Josephine almost a cradle-snatcher: even if the marriage took place as late as May 1884, the groom would have been less than 18 years old while the bride was around 32. Second, while ~yeazell/irene agreed with other webgens that Walter G. married Laura B. Snaufer (born Mar. 1867) on Feb. 21, 1889, that was over three years before Mr./Mrs. Wm. Yeazel(l) attended Mary Ann Wikel's 100th birthday in Atlanta IL. Finally, there was no indication that Walter G. ever lived in Indianapolis; in 1900 he was farming the same section of Moorefield Township (heart of Ohio Yeazelldom) as his father and grandfather.
● Nominee #2 was Walter G.'s uncle George Washington Yeazell (born July 4, 1851 in Moorefield Township: son of Jacob Yeazell and Eleanor Foley, and younger brother of Walter G.'s father John). Not only was George Washington much more suitable agewise, but he twice appeared in censuses as "Washington"—once as "Washington G.," at which point (1930) he was a 78-year-old widower, boarding with the Beer family in Springfield OH. However, both ~yeazell/robin (not an SEK webpage) and earlier censuses concurred that G.W. (or W.G.) married Jennie E. McClelland (born c.1854) c.1870, and that they'd had at least seven children from 1872 to 1892. (~yeazell/robin shows G.W. dying Jan. 13, 1929, though he's enumerated in Springfield's census on Apr. 21, 1930.)
● Although you would hope so solemn a document as a death certificate would be error-free, there was the chance that Josephine's husband's true middle initial was not "G." In 1900 a William H. Yeazell, widower, was boarding with the Mickle family in good old Moorefield Township. William H.'s birthdate was listed as Feb. 1843, and a similar age appears in 1910 for William H. Yeazell (widower) boarding with the Tuttles of g.o. Moorefield Township; ditto William K. Yeazell (widower) boarding with the Schaffers of g.o. Moorefield Township in 1920. This marital status made him a plausible Nominee #3: Josephine evidently died by 1900, and her bereaved spouse could have given their daughter to Josephine's aunt for her upbringing. But once again a different lady intruded: earlier censuses showed William H. Yeazell married to Rachel Wolf and living with her in Pike Township, Madison County OH in 1870. By 1880 they were in g.o. Moorefield Township with four young children: Louie, Nellie, Mattie, and Allie Yeazell. If Rachel had died in the early 1880s and William H. married Josephine Wikel, what became of Rachel's kids? Handed over to other relatives to raise? Once might be plausible; five times less likely.
● In the 1880 census William H./K.'s birthyear veered upward to 1840, perilously close to that of yet another William Yeazell (born c.1835-36) who lived, of course, in g.o. Moorefield Township: married to "Mary" in 1860 and "Anna" or "Annie" from 1870 to 1910.
● Then there was the possibility that "William" was Josephine's husband's middle name. ~clifford/hall suggested Nominee #5, James William Yeazell (born Mar. 9, 1949 in Clark County OH: son of George Yeazell Jr. and Nancy Ann Wilkinson). ~clarkmarriages/7 showed him marrying Amanda Neer on Dec. 12, 1869—plenty of time, you would think, for her to vanish and make way for Josephine as James William's second wife. But here too hope was dashed: Amanda (aka Susan A. and A. Susan) kept on living with James William in Catawba, Clark County OH for over fifty years, through at least 1920.
● Catawba's James Yeazell should not be confused with another James in good old Moorefield Township, who had a younger brother William Yeazell born c.1849. Their father was Kentucky-born (while neighboring Yeazell patriarchs hailed from Ohio or Virginia) and may not even have been a "true" Yeazell; ~a's Clark County Marriage Records showed "Abram Yeazell (Yasel)" marrying Frances Jane Barr on Aug. 24, 1861. Which was itself confusing, since Abram and "Fanny"/Frances were together in Moorefield Township as early as 1850. By 1860 they had eight children, aged fifteen to one; so did it take Abram till 1861 to make an "honest woman" of Fanny? Or did he marry a series of Franceses? At any rate this household was scattered by 1870; some of the children can be traced for decades, but the 1849-born William Yeazell—Nominee #6—is untraceable after 1860.
● Finally, if Irene Yeazell Furrow had been misinformed and her father was not an Ohio native, that would have opened the door to such paternal candidates as Nominee #7: William A. Yeazel of Illinois (born c.1849) who lived with his sister Elizabeth in Vienna, Harmony Township, Clark County OH in 1860 and 1870. (By the latter census Elizabeth Yeazel had married an Osborne.)

● Captain Ambrose A. Blount organized the 17th Ohio Independent Battery in Dayton on Aug. 21, 1862. If we believe the Official Roster of the Soldiers of the State of Ohio in the War of the Rebellion rather than ~history/clarkmil, its troops included "William H. Yeazel"—most likely our future Nominee #3. Aged 20, William H. enlisted on July 8, 1862; joined the "17th Light Artillery Battery" on Aug. 21st; was promoted to corporal on Sep. 1, 1863; and mustered out with the rest of the battery on Aug. 16, 1865.
● The 17th Battery was created as part of the abovementioned effort to repel an invasion of Cincinnati by Confederate General Kirby Smith, expected in Sep. 1862. The 17th served in Kentucky till December, then joined William Tecumseh Sherman's campaign against Vicksburg. It took part in the Battle of Chickasaw Bayou, where Sherman's men were repulsed with heavy casualties; and the capture of Arkansas Post, "where it suffered much from disease, poor rations, and no surgical attention." In the spring of 1863 the 17th Battery participated in the siege of Vicksburg, going from there to New Orleans in August and the Battle of Grand Coteau in November; there "it lost 25 men, 21 horses and one gun." In Aug. 1864 the 17th Battery went to Mobile and assisted in the capture of Fort Morgan before mustering out. "While in the service, the Seventeenth was in ten battles and sieges, fired 14,000 rounds ammunition, lost upward of forty men by Heath [death? health?], and marched more than ten thousand miles by land and water." (As per ~17th and ~~history/clarkmil.)
● In the 1870 census, the Yeazells of Goshen Township, Champaign County OH are entered as "Yeazle" and transcribed "Yeagle." 1880's census spells the surname correctly.
● David Yeazell wrote his will Feb. 2, 1890; it was probated Feb. 15th. Son Jacob Yeazell was living in Woodstock, daughter Sarah Yeazell Hudson in North Lewisburg, grandson G.A. Morris in Fountain Park, granddaughter Tellithia Morris Craig in Mechanicsburg, and another grandson—William Morris—in West Mansfield; all as reported by SEK. The three Morrises were the children of David and Esther's daughter, also named Tellithia, who evidently died by 1860.
● Where not otherwise indicated below, Yeazell birthdates and death dates were taken from SEK's "Descendant Report: William Andrew Yeazell."
● Besides "Otto," Otway Yeazell's first name appears as "Ottoway" and "Ottaway." His wedding to Tillie Lambert was found in Indiana Marriages, as was her surname; SEK shows the latter to be "Stedle," and censuses do say her parents came from Germany. Exact birthdates for sons Raymond and Elmer were found on their World War I draft registrations, and their death dates in the Ohio Deaths Index. Son Otway Alfred's death date appears in both the Social Security and Florida Death Indexes, though the first says he last lived in Cincinnati, while the second says Broward FL.
● "Otway R. Yeazell of Cincinnati Ohio" patented "new and useful Improvements in Kegs or Casks" on Dec. 21, 1909: as per ~a's patent records.
● No connection has been found between Mary Jane Yeazell's first husband, Mr. Dowell, with the "Dowell's" from which Samuel Wikel "came down about half past seven" in his grandson's Feb. 1, 1885 letter.
● Mary Jane's second (or at any rate final) husband, Stonewall J. Hunter, was born c.1872 in Indiana to Indianans apparently capable of admiring a recent enemy's general. Stonewall had two children from a previous marriage, James F. Hunter and Mae Hunter Boyle (who, as a divorcée in 1930, lived with Mary Jane and Stonewall and Mae's two young daughters).
● Mary Jane's obituary appeared in the May 6, 1952 Anderson Herald (viewable at ~a). It provided contemporary married surnames for her sisters Pearl, Louise, Edith, Hope, and "LaVon Poston of Gwynneville." Not included in SEK's database, the present author found LaVon identified by ~poston and ~beaver/poston as Minnie Lavonne Wilson. In 2009 I noted that while "it's chronologically possible she could have been the child of William A. Yeazell—and given up for adoption (despite her enormous number of older siblings) yet having her Yeazell kinship acknowledged in 1952—there is no evidence to suggest any of this happened." LLBJ provided just such evidence in 2012.
● The same obit said Mary Jane was survived by three brothers, but mentioned only Warnock and Carl—skipping over Sherman, though apparently mixing him up with Warnock. LaVon's 1956 obit said she was survived "by one brother and two sisters," the brother being "Warnick" Yeazell. Again no mention of Sherman, who lived till 1959; nor of Carl, who lived till 1970. The surviving sisters were Peal and Edith, so perhaps Louisa and Hope had died between 1952 and 1956.
● David Warnock Yeazell was named after the Irish-born Rev. David Warnock (1810-1882), who served twice as pastor of Urbana OH's First Methodist Episcopal Church (as per SEK's ~yeazell/warnock). This lends credence to the notion that Warnock Yeazell's mother Lucy Ann was friends with fellow Methodist Josephine Wikel after the latter moved to Urbana.
● In future censuses and directories, "Warnock" would be twisted into "Warwick," "Wolma(r)," and possibly "Warren."
● In 1910, Warnock's family compounded a bad surname transcription (as "Geozell") by all using their first initials and full middle names: a cruel trick to play on future genealogists.
● Warnock's sons David William and Orville Sherman both served in World War I; David spent much time in the National Home for Disabled Volunteer Soldiers during 1928-32. Orville lived with his father and stepmother in 1920 and 1930; as did Martha C. "McBrid" and Orpha "McBrid" (mother and sister of Warnock's wife Ida) in 1930, along with a granddaughter Marguerite (transcribed as "Margarete") who may have been Orville's child.
● Birthdates, deathdates, and married surnames for Warnock's three younger children Alice, Melvin, and Florence were found in Social Security and Ohio Death Indexes; as were those of Sherman Yeazell's son and daughter.
● Sherman Barber Yeazell's birthdate appears as Mar. 28, 1875 in SEK's Champaign County Birth Records (with his mother named "Lovina"); his World War I draft registration's birthdate is transcribed Mar. 25th, and his middle name spelled "Barbor." He was in fact named after his cousin Sherman Barber, the son (1858-1880) of Lucy Ann Yocum Yeazell's older sister Caroline Yocum Barber (1837-1858): as per ~yeazell/yocum. Sherman Yeazell is said to be a barber in the 1910 San Antonio census. His first marriage to Catharine Shaffer was found in Indiana Marriages; his death date and that of son Sherman Jr.'s were taken from the Texas Deaths Index (which spelled Sherman Sr.'s middle name as "Barbour").
● SEK found the wedding date for Inez Yeazell and Austin Myers in Marion County IN's Index to Marriage Records, 1896-1900. There Inez's age is shown to be 18 rather than 17, and her mother's maiden name as "Weikel." (The 1910 census would claim Inez and William had been married for 11 years.)
● Austin Myers's middle name was found on his two draft registration cards (which confirm the Myers spelling, rather than "Meyers"). In 1917 he and Inez lived in Indianapolis at 1525 S. State St. By 1942 Austin lived at 1023 St. Peter St., but Thomas Myers was listed as the "person who will always know your address"—implying that Inez had died by then. SEK found Austin's death date in the Social Security Death Index.
● Clarabelle Myers Cook's obituary (~clarabelle) supplied her mother Inez's middle name of Violetta. Clarabelle died in Raleigh NC, survived by son Charles Edward Cook, daughter Marie E. Stowers, two grandsons, six great-grandchildren, and brother Albert Austin Myers of Belleview FL.
● Irene Yeazell Furrow's 1936 death certificate showed her birthplace as Urbana rather than Dayton (and her father's initials as "W.G.," apparently to mislead future genealogists). Irene's husband Charles Furrow was employed as a real estate broker when he died in 1952. A Grace Furrow was listed as "informant" on his death record: she may have been Charles's third wife, since his 1942 draft registration card listed "Mrs. Chas. E. Furrow" of DeGraff, Logan County OH as his "person who will always know your address."
● Carl David Yeazell's whereabouts were partly tracked by his draft registration cards. He appeared as "C.D. Yeazell" in the 1920 census. SEK found an obituary in the June 8, 1970 Edwardsville (IL) Intelligencer, which said Carl belonged to the Brotherhood of Railway Trainmen. Both it and wife Ruth's obit showed them marrying in 1915 rather than 1911.
● ~sisterstritt, a 2005 obituary of Sister Barbara Marie Stritt (née Christine Josephine, daughter of Carl F. and Pearl Yeazell Stritt) quotes her mini-autobiography: "Born on Feb. 15, 1917, in Indianapolis, I arrived just a day too late to be my dad's Valentine or my mother's birthday gift. I was their first child of five girls." Besides taking holy vows, she earned a master's degree from Ball State in Muncie and taught in many parochial schools. Sister Barbara Marie was buried at Saint Mary of the Woods Catholic Cemetery in Vigo IN.
● ~a's Indiana Marriage Records provided not only the date when William A. Yeazell wed Louisa J. Sine, but also her surname and (in a separate supplement) the first names and birthplaces of her parents. The supplement correctly showed Louise to be born c.1857; the main marriage record estimated "1869" as her birthyear. A search of pre-1880 censuses found no one named Phineas who was born in North Carolina, lived in Indiana, and had a daughter with a name/age like Louisa J.'s.
● Frank E. Sine, brakeman/conductor, is listed in Indianapolis city directories for 1883-93; this would appear to be the Frank E. Sine who married Sallie L. [surname?] c.1884 and was still living with her in Indianapolis in 1900. Though it's not impossible that he could have been Louisa J. Wikel's former husband (the Frank G. Sine of Cass County IN in 1880), it's far more likely Frank E. Sine is a genealogical red herring.
● Edith Yeazell's birthdate (showing 1895 rather than 1896) and her first marriage record were found in Indiana Marriages.
● findagrave.com connects Hope Yeazell Young's husband Charles Edward Young with two sons, Robert Young and Charles Young, whom he had by Mabel May Trout Young—but gives them birthyears of 1924 and 1930, which clash with Hope's children's birthyears.
● Henry Bittenbender died c.1883, aged 66; Caroline Bowers Bittenbender died Jan. 6, 1910, while living with the Wikels. (As per The History of the Western Reserve below.)
● Emily Bittenbender Wikel's brother Charles was profiled in two volumes available at Google Books: 1910's The History of the Western Reserve, Vol. II by Harriet Taylor Upton (Chicago: The Lewis Publishing Co., pp. 946-47); and 1916's A Standard History of Lorain County Ohio, Vol. II by G. Frederick Wright (Chicago: The Lewis Publishing Co., pp. 910-12—includes a photo). These accounts tell us that Charles Henry "Buttenbender" was born Oct. 7, 1854 in New York City, where his immigrant parents (Caroline from Alsace and Henry a "native of the Mines") lived till 1860 before settling in Fort Wayne. Charles left school at age 12 to work for a grocer, then become a journeyman maker of silk hats, then (when those fell out of style) turning to the moulder's trade, the flour-and-seed business, and the wholesale hay market. In 1887 Charles was elected for two years to the Fort Wayne City Council, followed by a term as Deputy Assessor of Allen County. Entering the postal service, he moved to Elyria OH and there founded the Hinkson-Buttenbender Co., "which was soon developed as one of the leading local firms of contractors and builders, real estate and insurance agents." (The 1910 census listed Charles as a house painter.) "The City of Elyria counts as one of its livest [sic] and most enterprising citizens Captain Buttenbender, who... has exercised an influence in keeping with his magnetic personality, his boundless energy, and a public spirit which never seeks anything for himself but is always at the service of the community." (Sinclair Lewis, take note.) Charles served on Elyria's City Council 1909-13, running unsuccessfully for mayor in 1912. His captainship came from involvement in many fraternal organizations. Charles married Estella C. Grout of Franklin County NY c.1881; they had no children.
● The Official Railway List (Chicago: The Railways Purchasing Agent Co.), The American Engineering Register (New York: Engineering News Publishing Co.), and Poor's Directory of Railway Officials (New York: Poor's Railroad Manual Co.), are all available at Google Books.
● Vintage issues of the Fort Wayne Sentinel, Daily Gazette, Journal-Gazette, and Daily News, along with the Indianapolis Star, are available at ~a. In the Mar. 13, 1890 Sentinel we find: "Born [yesterday], to Mr. and Mrs. S.A. Wikel—a daughter" (Louise). The Apr. 12, 1912 Indianapolis Star reported S.A. Wikel's election as deacon of the Fourth Presbyterian Church.
● S.A. Wikel predeceased his sister Ellen, who in her June 10, 1919 letter wrote that of those who'd attended her wedding sixty years earlier, only one person "outside of my sister and bro." was still alive. Mary Elizabeth and Henry Wikel survived Ellen's death later that year, though Henry was in poor shape and did not last much longer.
● At Grand Rapids's Central High School during 1900-01, Howard Henry Wikel was a member of the Junior Class Decorations Committee and played a piano solo at the Nov. 28, 1900 Literary Society meeting: as per ~grandrapids.
● President William McKinley died in Buffalo from an assassin's bullet on Sep. 14, 1901, and was buried at Canton OH's West Lawn Cemetery on Sep. 19th.
● Between leaving LaGrange and joining Purdue, Howard spent the summer of 1916 teaching German at the summer university at Bay View MI. "Professor Wikel has been spending his summers at this prominent educational point in summer schools and chatauquas for a number of years and will be no stranger to the work which he takes up 'while he rests,'" remarked the May 20, 1916 Fort Wayne Daily News.
● Howard's addresses and academic career were taken from ~arbetus05, ~arbetus 06, ~lagrange, ~sigma, and ~uindiana; plus draft registration cards, the Register of Graduates of Indiana University and the Bulletins of Purdue University, available at ~a along with Emily and Louise's passports and Howard and Louise's passenger-list entries. Howard and Louise's deaths were taken from the Social Security and Florida Death Indexes; Howard's memorial student loan fund was found at ~indiana/wills and ~indiana/wills2.
● ~sigma says Howard was the author of "Diplomatic Relations Between Austria and Prussia" and "The Hohenzollern Candidature and Its Effects."
● Just to make things perfectly clear, Ohio has a third Middletown in Crawford County, between Bucyrus and Mansfield; plus a New Middletown in Mahoning County, southeast of Youngstown.


Return to the Fine Lineage Index Page

Go to the Fine Lineage Sources Page

Last updated January 28, 2014


Return to the Skeeter Kitefly Website Index

Copyright © 2003-2014 by P. S. Ehrlich; All Rights Reserved.